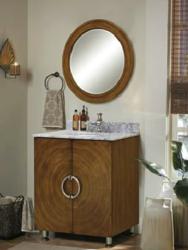 Natural wood bathroom vanities come in all shapes, sizes, styles, and shades, and work well in a variety of bathroom decors.
(PRWEB) December 17, 2012
HomeThangs.com – the Home Improvement Super Store has made their goal to deliver the right product to the consumer, with that in mind, shopping and home design tips, as well as special product selections are being introduced.
Natural wood bathroom vanities are usually mentioned in the context of structural integrity or rustic style. But they come in all shapes, sizes, styles, and shades, and work well in a variety of bathroom decors. HomeThangs.com introduced a quick tip sheet with some ideas for those who like the look of natural wood bathroom furniture, and are considering a bathroom renovation, but aren't quite sure what look to go for.
1. Artsy Impact
It's easy to think of wood bathroom vanities as being simple and rustic, but this isn't always true. Vanities with patterned wood veneers are a great way to add unexpected, stylish visual interest to any bathroom. While veneers are largely used in antique-inspired designs, they're the most interesting in more modern applications. The Art Deco inspired Ovation vanity from Sagehill Designs is a great example, with an eye-catching spiral design that's made from entirely natural materials, but has a distinctly artistic flair.
The Legacy vanity from Avanity is another good example. It breaks almost all the rules of what makes a bathroom vanity, shirking the traditional rectangular style for a modern half moon shape. It also disposes of the traditional cabinet in place of a dresser style set of three drawers. But what really makes this vanity spectacular is the burl veneer faces and wood vanity top. Paired with the right vessel sink, it makes a showpiece all on its own.
2. Wood Can Be Modern
Lustrous, honey-toned birch wood bathroom vanities might not be the first things that come to mind when thinking about a modern bathroom design. But while much of the modern palette is industrial, leaning towards concrete grays and darker shades, modern design is also about embracing the unexpected. The Leonie vanity from Ronbow for instance, is nothing if not unexpected, with an ultramodern conical design that's finished in a warm, homey wood tone. This stunning use of wood accents is an excellent way to warm up a chilly modern bathroom design, or just add visual interest by opting for something a little out of the norm.
That said, even if sticking with the industrial color wheel of conventional modern design, wood can still be a good option. Te Luna vanity from Iotti is done in a dazzling grey oak finish that's unexpected in an entirely different way. While the color is right, the faded, aged wood color, along with a beautiful wood grain, add a sense of history and weight to what's otherwise obviously a very contemporary piece.
3. Rustic Simplicity
If aiming for a simple, natural, rustic bathroom style, one really can't beat natural wood. For example, Lawton Vanity from Sagehill Designs features simple, straightforward design and elegant, light-finished cherry wood veneers. While the finish isn't weathered, the vanity has the appearance of a more rustic construction. This hint of older, colonial influences, gives it a hand-hewn finish, but the design itself has enough definition to give it a more contemporary style. The integrated door pull allows the cherry veneer to be the main focal point for a simple but sophisticated finish.
Lighter wood tones are great for evoking Nordic spas and saunas – a different kind of rustic entirely. While American Craftsman and similar styles evoke a sort of frontiersy or ranch style, something like the Spa Style Vanity from Legion Furniture is a perfect pair for an open, light-filled, spa-style bathroom. The lighter wood is not only brighter, but leaves the eye with a cleaner finish – a perfect pair for lots of white tile, plushy white towels, and lots and lots of steam.
4. Antiques
All that said, antique or period inspired bathrooms are the one place where one won't find anything but solid wood bathroom vanities. More than with any other bathroom style, one's apt to find wood bathroom vanities with elaborately carved details and beautiful patterned exotic wood veneers. The Ornate Birch vanity by Legion Furniture is just one example among many, but in order to really enjoy and show off the highest beauty of the rarest and most exquisite types of wood, antique bathroom vanities are definitely the way to go.
Even slightly more simplified, transitional versions of antique wood bathroom vanities, like the lovely Chardonnay Vanity from Ronbow, are a great way to show off the beauty of natural wood (and to a lesser extent, woodwork). Even if not going for a truly ornate vanity, one can still get just a hint of antique style, accented by the use of wood. This vanity in particular has just enough curve to make it seem sophisticated, just the right wood finish to make it seem elegant, but with the simplicity for a homey, even casual bathroom in a contemporary home.
HomeThangs.com is not only a home improvement superstore, it also provides expert design tips and a comprehensive shopping guide, taking the ideas from professional interior designers, and offering tips to the consumers on how to pick the products to best suit their needs.