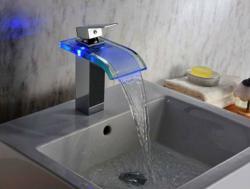 Many modern vessel sink faucets are specifically designed to look unusual, and the inclusion of LED lights can make them really stand out.
(PRWEB) May 22, 2013
HomeThangs.com – the Online Home Improvement Store has made their goal to deliver the right product to the consumer. With that in mind, shopping and home design tips, as well as special product selections are being introduced.
The vast majority of bathroom faucets look pretty similar; many of them are beautiful, but it takes a little effort to find something really out of the ordinary. Many modern vessel sink faucets are specifically designed to look unusual, and the inclusion of LED lights can make them really stand out. For anyone interested in getting this unique look, HomeThangs has introduced a guide to decorative LED faucets.
LED faucets are just what the name implies: faucets with very small LED lights built into the tap. Sometimes visible through clear plastic pieces, these lights turn on when the water is turned on. Because of the way light moves through water, the whole stream of water is illuminated with whatever color the lights happen to be, creating a colorful glow that can fill a sink with water that looks dyed.
One of the main draws of LED faucets is, of course, their novelty. LED faucets – especially luxury waterfall faucets – look incredibly unique, with parts designed to light up from within as well as illuminating the water. These lights are still rare enough to be surprising, which means that in a guest bathroom, an LED faucet is a sure-fire conversation starter without the need for a large scale remodel.
That said, LED faucets are good for more than just a simple wow-factor. In fact, one of their more important functions is actually safety. LED taps are often triggered by temperature in much the same way an anti-scald valve works. That is, when the water is at, above, or below a certain temperature, the lights change color, changing the color of the water, usually blue for cool water, purple for warm water, and red for hot water. Very hot water will cause the LED lights to flash red, offering a simple and effective visual cue that water is too hot to touch.
The most basic LED faucets come in a simple red/blue to indicate temperature. But newer models offer a wider range of colors, both used to reflect various temperatures and for simple display. Of course, LED faucets are limited to the colors that LED lights can produce, but as technology improves there's been a noticeably better variety in color. LED faucets from Sumerain have at not only the traditional red, blue, and purple, but also green, while LEDs in general are more rarely able to produce orange, yellow, pink, and white as well as a few shades of blue/green.
Another major use for LED faucets is chromatherapy. Exposure to various colors can have a noticeable impact on mood, and multi-color LED faucets take full advantage of this fact. The effect is more noticeable in LED shower heads, perhaps, but even a simple stream of colored water can have a positive effect. When LED faucets come with more than one color light (and the colors aren't linked to temperature), the colors can often be alternated with the touch of a button, allowing for greater control of the color experience.
There are two types of LED faucets: ones that are battery or electrically powered and ones that are water powered. Electric faucets need to be hooked up either to an outlet or to a battery pack in order for the lights to work, with back up batteries that need to be replaced once or twice a year. Hydro-powered LED faucets are ever so slightly much more environmentally friendly, using the force of water passing through the tap to power the light so they don't need any kind of back-up power, though the strength of the light will depend on the force of the water.
To find out more about LED faucets, read the full version of "Decorative LED Faucets For A Modern Bathroom"
HomeThangs.com is not only a home improvement superstore, it also provides expert design tips and a comprehensive shopping guide, taking the ideas from professional interior designers, and offering tips to the consumers on how to pick the products to best suit their needs.