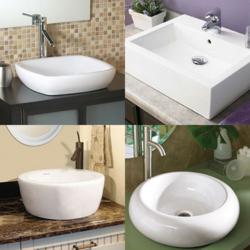 The ultimate solution to stopping water from leaking between a sink and its countertop is to form the sink and countertop as one unit.
Pittsburgh, Pennsylvanaia (PRWEB) February 25, 2013
A bathroom sink is often called a lavatory to differentiate it from a kitchen sink.
"Lavatories differ from kitchen sinks in size and bowl depth. Unlike kitchen sinks, lavatories have an integral overflow to prevent water from flooding over the rim," says Bob Beall, president of Mr. Rooter Plumbing Pittsburgh.
"To select a lavatory, consider first how it's mounted, what it's made from and the size of the bowl," says Beall. After that, according to the most referred plumber in Pittsburgh, "come choices in color and style."
Sinks are often classified by how they are mounted: true self-rimming, tiled-in-sink, self-rimming with clips, under-counter, and seamless. An exploration of bathroom lavatory sinks mounting choices follows:
Mr Rooter Tip Of The Day
Tip #1 Vanity-mounted sinks can be drop-in, under-counter, and above-counter.
Tip #2 Any sink that is supported by a wall is considered a wall-mount sink. These sinks attach directly to the wall or hand on a bracket attached to the wall.
Tip #3 Pedestal sinks may look freestanding, but the sink is mounted to the wall. Even though the pedestal takes some of the sink's weight, the bulk is supported by the wall.
Tip #4 True-self-rimming cast iron or porcelain sinks are held in place by their significant weight and a thin layer of sealant or plumber's putty that forms a watertight seal under the small flat section on the rim.
Tip #5 To have a sink that ends up flush with the countertop, you first install the sink and then build up the countertop around it, with tile.
Tip #6 Although called self-rimming, this style of sink really isn't. To create a watertight seal, a dozen or so small clips hook onto a lip on the underside of the sink and pull the sink down tight.
Tip #7 Under-counter sinks have become popular since the advent of solid-surface materials. This style of sink presses up under the counter and is held in place with clips that screw into embedded inse4rts.
Tip #8 The ultimate solution to stopping water from leaking between a sink and its countertop is to form the sink and countertop as one unit. Or make the parts out of the same material, and glue the two parts together.
There's A Reason They Call Us Mr.™
Mr. Rooter is a plumbing specialist in the greater Pittsburgh PA area that understands the importance of not only skilled work, but also creating a relationship with their clients. The company lives and practices a Code of Values that emanate from respect, integrity, customer focus, and having fun. Treating others with the respect they deserve, listening with the intent to understand what is being said, and acknowledging the importance of the words in accordance with the speaker are just as important as fixing the leak, or addressing any issue involving plumbing. With a strong focus on customer loyalty, Mr. Rooter knows that integrity means doing a job well, and maintaining the clients trust at the same time.
For more information, please visit http://www.rooter2.com.
Debra Santavicca, PR, SMM, WebIT
Mr Rooter Media Center
Mr Rooter Tip Of The Day
http://www.rooter2.com
724-553-9510