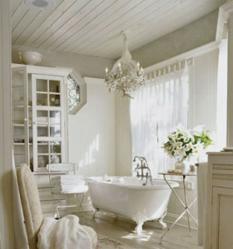 Chandeliers are a great unexpected addition to a bathroom in just about any decor – they're a little bit decadent, a little playful, and all class – the perfect signature finishing touch no matter what the style.
(PRWEB) September 13, 2012
HomeThangs.com – the Home Improvement Super Store has made their goal to deliver the right product to the consumer, with that in mind, shopping and home design tips, as well as special product selections are being introduced.
Lighting is one of the most important elements of bathroom decor – decadent, layered bathroom lighting can really make the difference between a so-so design and something really stunning, purely by virtue of the warm, inviting feeling of lots of lighting. That said, once it has been figured out what kind of functional lighting needed, there's still plenty of room left to find fun, stylish fixtures that will not only serve the purpose, but add to the style and make a statement.
Chandeliers are a great unexpected addition to a bathroom in just about any decor – they're a little bit decadent, a little playful, and all class – the perfect signature finishing touch no matter what the style.
HomeThangs.com has introduced a tip sheet to help consumers get the best out of their bathroom decor and not to miss out on the great element of design which is often overlooked – the chandelier, offering tips and ideas on how it can be incorporated into any bathroom style.
1. The most traditional use of a chandelier is in a truly vintage style bathroom. The repeated Lena Chandeliers by Crystorama give the room a parlor-like feel, creating a sense of sophistication and a little extra touch of formality. It would look great in a bathroom decorated with the silvery gray tones. Supplementing the chandelier with a trio of matching wall sconces and a pair of recessed lights for good face lighting is a great way to add more layered lighting to the grooming area.
2. Although, vintage style bathrooms with antique style chandeliers don't have to be super formal. A bathroom that has an almost grunge feel to it with weathered antique fixtures and decor elements, might use coordinating lighting fixtures in the antique finishes, like Cast Brass Sconces, or a posh Strass Chandelier by Crystorama, – the perfect finishing touch for an opulent "found" look.
3. Bathrooms with dark wood floors, steel tub, silver mirror, big picture windows for example, - where everything looks polished to a perfect shine, - the simpler, less assuming chandelier, like Dione by Elk Lighting, brings out the clean, simple lines rather than emphasizing opulence.
4. Chandeliers work well in a cottage style bathroom, too. The high beadboard wall paneling and the whitewashed plank ceiling that are all beachside summer retreat are begging for a floral-inspired chandelier, like Southport Chandelier by Crystorama for instance, it adds a little touch of nature that softens all the straight lines in the room, making an excellent accent piece even when it's turned off and illuminating the room with a softer, warmer light in the evening.
5. In a very bright space, extremely lavish, crystal-laden chandeliers like Ornate Cast Brass by Crystorama for example, are especially eye-catching. One might not need the bathroom lighting, but whatever the decor, all those crystals will light up in the sunlight, casting gorgeous little rainbows and making a spectacular centerpiece. In a big bright bathroom with just a few antique-inspired elements, a claw foot tub and luxurious fixtures, even the most over the top chandelier is simplified to a nice place to hang some pretty prisms, giving the room a light, airy feel rather than necessarily an opulent one.
6. Even in a room where fixtures pair really nicely with Victorian clawfoot tubs, chandeliers aren't just for vintage style bathrooms. Dramatic hotel-style shaded chandeliers like the Brentwood by Crystorama, are stunning in a modern style bathroom, and a smaller Cylindique Pendant by Triarch can actually replace the more traditional wall sconces that would usually frame a vanity mirror, giving the same lighting and symmetrical look but with a little unexpected opulence.
7. Modern twists on classic designs are great. In true modern style, where the bath uses many different textures of the same white color to attract the eye, something like the Wet White Paris Flea Chandelier and matching Parisian Sconce by Crystorama will complete the whitewashed elegance, with frosted glass flames, flat white body, and hazy white crystal pendants, combining the classical decadent design with minimal modern coloration.
No matter what the bathroom lighting needs, a chandelier is a stunning, surprising lighting choice that can really make the bathroom shine – literally.
HomeThangs.com is not only a home improvement superstore, it also provides expert design tips and a comprehensive shopping guide, taking the ideas from professional interior designers, and offering tips to the consumers on how to pick the products to best suit their needs.