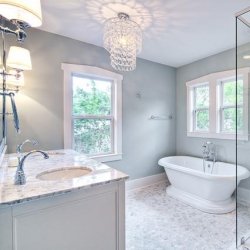 Chandeliers might seem too fancy for some settings, but in fact they are a great way to dress up almost any bathroom, whether it is a very ornate design, or a country style.
(PRWEB) September 27, 2012
HomeThangs.com – the Home Improvement Super Store has made their goal to deliver the right product to the consumer, with that in mind, shopping and home design tips, as well as special product selections are being introduced.
As more and more emphasis is placed on big bathroom remodels, bathroom lighting is increasingly starting to become a topic of conversation in design circles. Gone are the days of sparse, utilitarian lighting fixtures and poorly lit bathrooms. Lots of light, beautiful fixtures and complex layers of lighting are starting to become the new norm.
HomeThangs introduced a tip sheet to help the homeowners find best way to apply the lighting principles to their own bathroom space. Chandeliers might seem too fancy for some settings, but in fact they are a great way to dress up almost any bathroom, whether it is a very ornate design, or a country style.
1. Chandeliers Emphasize Luxury in Luxury Remodel
One of the most obvious applications of the bathroom chandelier is in a very ornate bathroom, done in expensive materials and with an elaborate, classical design. Bathroom chandeliers are right at home in this setting, helping to underscore the appearance of old world decadence and style. For example, a dark, antique bronze chandelier, like the curvy Gloucester Chandelier by Elk Lighting, would make a perfect counterpoint to light stone and an all-over light neutral color scheme in a large bathroom. A crystal or glass chandelier would work in a bright airy color scheme as well, but the dark base works nicely to attract attention to itself, making the chandelier a focal point of the room as well as a functional piece of lighting for the large bathroom.
2. Minimalist Chandeliers for A Modern Bathroom
Maybe slightly less expected is the use of bathroom chandeliers in a modern bathroom. In a minimal, modern design, one probably wouldn't think that something ornate and decorative like a chandelier would be appropriate. But simple, minimal chandeliers with strong lines, like the Viking Chandelier from Triarch for example, work incredibly well in a modern bathroom because they accentuate and enhance the simplicity of the design while adding a slim, trim, touch of sophistication. For a stark, modern bathroom, a chandelier done in cast iron or a dark oil rubbed bronze would work best; chrome might be a more common material in a modern setting, but a darker base for the chandelier will produce more dramatic, bolder lines.
3. Modern Chandeliers In A...Vintage Bathroom
Here's where things start getting really interesting. Luxury chandelier, luxury bathroom; modern chandelier, modern bathroom – that's how it usually works. But the real fun is in the mixing and matching. An ultra modern glass chandelier like the Letizia Petite by Nuevo for example, would look amazing in a vintage style bath. It would give a very classic bathroom - marble, roman tub, light color scheme - a nice contemporary edge. This is one of those areas to really see the potential chandeliers have to influence the decor.
4. Dressy Antique Chandeliers For A Modern Bathroom
In the same light, choosing an ornate antique bathroom chandelier for a modern bathroom is an equally daring choice. Especially if going for a modern bathroom with a streamlined vintage twist, a big chandelier like Regis Old Silver Chandelier by Crystorama, will add oodles of class and sophistication, and just that one lovely bit of detail to an otherwise simple, minimal design.
5. Fancy Bathroom Chandeliers To Dress Up A Simple Bathroom
Taking a slight step out of the mix and match, chandeliers also work really well in casual bathrooms, especially ones with a slight vintage inspiration, like Cape Cod or cottage style bathrooms. In a bathroom that has everything that could be found in an authentic turn of the century home: black and white hex tile flooring, a clawfoot tub, console vanity, and simple window dressings, the addition of a cast brass crystal chandelier, like Novella chandelier by Crystorama, takes the whole bathroom to the next level, adding elegance and sophistication to an otherwise simple and fairly conventional design. This is also a great way to build a sort of elegant grunge style, combining weather worn bathroom vanities and salvaged antique tubs or pedestal sinks with ornate antique bathroom chandeliers.
HomeThangs.com is not only a home improvement superstore, it also provides expert design tips and a comprehensive shopping guide, taking the ideas from professional interior designers, and offering tips to the consumers on how to pick the products to best suit their needs.