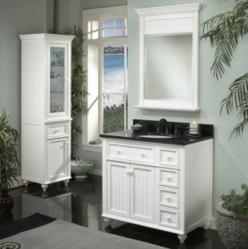 Ultimately, the number one rule with any remodel is that planning of what needs to be done should not only be based on what the current homeowner wants and will enjoy, but also what's going to make the house appeal more to its future owners.
(PRWEB) September 21, 2012
HomeThangs.com – the Home Improvement Super Store has made their goal to deliver the right product to the consumer, with that in mind, shopping and home design tips, as well as special product selections are being introduced.
Unless planning on staying in the same home for life, any major remodeling or renovating should have an eye not only to the own tastes of the current homeowner, but also toward increasing the value of the home. For example, many homeowners are updating their bathrooms to a very modern, sleek look these days, but there are a few simple dos and don'ts that can really increase the return on a renovation without cramping the style.
1. DON'T: Choose all cold colors
In a modern style bathroom, it can be really easy to create a very cold bathroom without realizing it: from sleek grey tones to glass, tile, and even metal materials throughout, the bathroom can end up looking like a cold cloudy winter day. It might not bother some people, but if taking future buyers into consideration, some of them are sure to feel the chill as soon as they walk through the door, especially if cold tile is combined with a cold, ultramodern vanity.
2. DO: Be aware of the palette
To make sure the colors look right together, one has to think about color in early design stages. It is often best to go with neutral colors, but in order to prominently feature gray/sliver-blue, one has to make sure to have at least a few large pieces that have a warm neutral base. For example, with a glass bathroom vanity, the walls or tile should be done in a warmer base tone.
3. DON'T: Dream bigger than the space
One of the first things to take into consideration are the space constraints. If the bathroom is too small, before expanding (either by enlarging your house or building into another room) it, it is recommended to talk to a local real estate agent about how it would affect the value of the home, and a contractor about costs to see if it's worth the investment. If considering a full bathroom remodel without expanding, it is important to make sure there is sufficient space for everything before committing to a huge vanity, tub, or shower.
4. DO: Be aware of buyer's expectations
If a buyer can finish the question "Where's the-?" something has been done wrong. For a master bathroom update, one should have a separate bath and shower, a two-sink vanity, and preferably a private water closet.
5. DON'T: Push artistic to impractical
More than maybe any other part of the bathroom, new, modern faucet designs straddle the line between functional and artistic… and some of them go a little too far. So one has to be really careful not to get a sink or a faucet with a handle that are either too small, too weird looking, or too well hidden for an average newcomer to be able to figure out.
6. DO: Look for some artistic flair
As long as they're practical to use, one really shouldn't shy away from ultramodern fixtures. Vessel sinks and fancy faucets, or even really unique hardware on the doors and drawers can catch a buyer's eye and elevate the level of the bathroom in a subtle but significant way.
7. DON'T: Put too large a chunk of the budget into something very personal or edgy
It can always be a temptation to do something big and bold and beautiful – bright, loud colors, huge heavy pieces of art, unconventional tile, or even just special designed cabinetry. But the more dramatic the statement (and the more personal), the more likely it is to turn off a potential buyer. So before designating a big chunk of change to anything out of the box, it is important to consider whether the money would be better spent on something more traditional.
8. DO: Splurge on a few luxuries
While getting a mosaic of Whistler's mother installed on the bathroom ceiling might not be the best long term investment, there are a few high end items that will always get a big thumbs up from buyers – like heated floors or towel warmers, a spa shower or steam bath. Even simple things like a more neutral, elegant mosaic tile make for a good compromise between customizing and beautifying the bathroom – and beautiful really does count.
Ultimately, the number one rule with any remodel is that planning of what needs to be done should not only be based on what the current homeowner wants and will enjoy (which of course should be the most important!) but also what's going to make the house appeal more to its future owners.
HomeThangs.com is not only a home improvement superstore, it also provides expert design tips and a comprehensive shopping guide, taking the ideas from professional interior designers, and offering tips to the consumers on how to pick the products to best suit their needs.