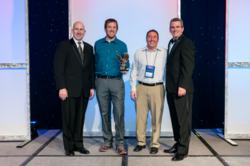 "This duo runs a great business in which they understand their strengths in order to be successful." -- Mark Dawson, Re-Bath, LLC president and CEO
TEMPE, ARIZ. (PRWEB) February 15, 2013
Re-Bath® of Colorado was honored by the Better Business Bureau (BBB) with a 2012 Gold Star for receiving no customer complaints for three full years.
In addition, Re-Bath® of Colorado and Utah completed its best Home Depot Voice of the Customer (VOC) quarter yet, with a final score of 9.78 and a 9.58 for the year. The franchise operates the Bath Remodeling program for 53 Home Depot stores. Their VOC scores were based on 350 customers and $2.5 million in Home Depot sales.
Jim Fitlow and Michael Allen own the franchises, based in Denver and Salt Lake City.
"This duo runs a great business in which they understand their strengths in order to be successful," Re-Bath, LLC President and CEO Mark Dawson said. "They never miss the opportunity to take other franchisees under their wings to mentor them in a positive way."
The BBB is a nonprofit organization that provides free business reliability reviews to customers. Home Depot is the largest home improvement retailer in the United States, and its VOC score measures customer satisfaction.
Fitlow and Allen won a 2012 Excellence in Mentoring award from corporate Re-Bath® in January. The award recognizes model franchisees that positively impact others in a proactive manner.
About Re-Bath®
Re-Bath, LLC, based in Tempe, Ariz., is America's largest bathroom remodeler. Re-Bath® makes remodeling a bathroom easy, convenient and affordable with its line of replacement bathtubs, walk-in bathtubs, bathtub to shower conversions, bathroom vanities, bathroom flooring and more, all with professional installation by factory-trained installers. Founded in 1979, Re-Bath® has over 200 franchise locations nationwide. For more information regarding Re-Bath®, visit http://www.rebath.com.
# # #
For additional information regarding this subject, please contact Re-Bath® Marketing Communications Coordinator Lindsey Larson at llarson (at) rebath (dot) com or (480) 844-1575 Ext. 129.
Like us on Facebook: http://www.facebook.com/officialrebath
Follow us on Twitter: http://www.twitter.com/officialrebath