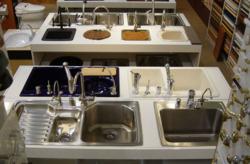 The Bath + Beyond is doing a huge expansion of our product lines that will set us apart from our competitors
San Francisco, CA (PRWEB) September 30, 2011
The Bath + Beyond a San Francisco bathroom remodeling company, sells the decorative plumbing products and they are proud to announce a large expansion of new products within their store. New and interesting items will be added to their store and would look great in anyone's home.
"The Bath + Beyond is doing a huge expansion of our product lines that will set us apart from our competitors," states Joni Burton of Bath + Beyond. "The expansion will add to the beauty, quality, design and flair of our existing product lines. We have listened to our customers and are now responding."
Bath + Beyond has English collections consisting of fine china and exquisite furniture pieces which exhibit the old world craftsmanship of Europe. Another popular line is the exquisite faucets from the Fantini line, which feature the latest in unique Italian designs. The store also offers Dorenbracht products that offer a unique and beautiful design that will surpass competitors' quality.
Bath + Beyond surpasses anything that can be found in the San Francisco marketplace today. The showroom promises to offer the most beautiful and durable kitchen faucets and fixtures available.
New and returning customers are invited to visit the shop to see everything that The Bath + Beyond has to offer. They are located at 77 Connecticut Street in San Francisco. They can be reached at 415-552-5001 or by visiting them on the web at http://www.bathandbeyond.com.
About The Bath + Beyond
The Bath + Beyond has an 18,000-square-foot showroom displaying an extensive product line including decorative plumbing, kitchen faucets, countertops, cabinetry, lighting and more. Joni and Jeff Burton opened the shop in April 1986 with the goal of offering a unique decorative plumbing experience. They wanted a showroom that would be available to the public as well as the trade – a place where customers could see and touch the product choices available to them. The store derives its products from quality vendors and is manned with a professional sales staff, which is more than willing, able and happy to assist their customers in their bathroom remodeling project.
###