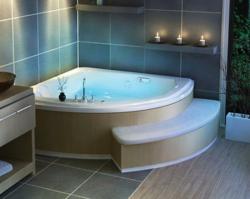 How big the tub is means how much water it will hold, which means how long it will take to fill, whether or not the water heater will be able to fill it at all, and how heavy it'll be once it's full.
(PRWEB) December 21, 2012
HomeThangs.com – the Home Improvement Super Store has made their goal to deliver the right product to the consumer, with that in mind, shopping and home design tips, as well as special product selections are being introduced.
These days, whirlpool tubs are a practically-mandatory addition to a luxury bathroom remodel. And with luxury bathroom remodels in the home improvement spotlight, there's a good chance that a new whirlpool tub is on the to-do list. But not all whirlpools are created equal, and choosing the right one for the bathroom is a little more delicate than deciding to add one in the first place. HomeThangs.com introduced a simple tip sheet with a few important things not to overlook when buying a whirlpool tub in order to get the most of the purchase.
1. Size
There's more to the new whirlpool tub than its exterior measurements. How big the tub is also means how much water it will hold, which means how long it will take to fill, whether or not the water heater will be able to fill it at all, and how heavy it'll be once it's full. Lukewarm baths are not so luxurious, and not all floors can handle hundreds of pounds of water, so it is important to make sure to find out what the capacity and water weight of your bathtub are before buying. It might mean either opting for a smaller tub or the larger investment of a new water heater.
2. Whirlpool Type
Whirlpools come in three main types: water jet tubs (or the traditional whirlpool) air jet tubs (which produce a gentler, bubblier air jet) and combination tubs that allow alternating or mixing between the two. This is especially important to consider for those who haven't really used a whirlpool tub often before. Water jets can be too intense for some, while air jets don't give the deep tissue massage one might be looking for. If possible, it is advised to try out different types of whirlpool tubs before settling on one. The good news is, many whirlpool tub styles in each of the three configurations.
3. Accessories
It's entirely possible to get a whirlpool tub that just has whirlpool jets. But it's just as common to find tubs with a whole host of extra features, from rainbow colored chromatherapy LED lights to built-in sound systems. Which features the tub has will vary from one manufacturer to another. For example, Fuzion whirlpool tub by Jacuzzi features heated air jets and a whisper-quiet motor. Those who are on a tight budget should be aware how much certain features increase the cost of the tub, and be aware that there's no need to get all of them if they are not going to be used.
While all the accessories and extra features can be nice to have, and certainly enhance bathing experience, the one that is most useful is in-line heating. Those who've ever taken a long bath in any size bathtub know that eventually water loses heat. This is especially true for a large tub that takes a while to fill. In-line heating circulates and reheats the water in the tub for as long as it's been used, ensuring that the bath is a comfortable, stable temperature. This not only saves the frustration of having to constantly top off the tub, but can also cut down on a water bill, too.
4. The Deck
Once the tub has been purchased, a tub mount has to be built. When a whirlpool tub is seen in a catalog or a showroom, it's already set in a beautiful bathtub mount – a support frame with a stone, tile, or wood finish. So one has to decide how to stage the tub and build the setting for it. This is the main reason that whirlpool tubs are more often associated with major bathroom remodels and not-so-much a weekend project. Unless getting a freestanding whirlpool, which is often more expensive, planning and building the tub deck should be just as big a consideration as the tub itself.
Many of the choices to make when planning a major bathroom remodel are primarily cosmetic, but those who have their heart set on a whirlpool, need to consider functionality as much as aesthetics to get a tub they'll really enjoy.
HomeThangs.com is not only a home improvement superstore, it also provides expert design tips and a comprehensive shopping guide, taking the ideas from professional interior designers, and offering tips to the consumers on how to pick the products to best suit their needs.