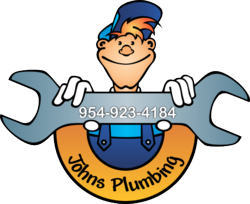 Get Service Today!
Hollywood, FL (PRWEB) December 26, 2011
January is National Bath Safety Month, and Hollywood Florida plumbing service John's Plumbing who specialize in Bathroom Repairs has some handy tips to make the bathroom a safer place for every member of the family.
"The bathroom can be full of many unknown hazards, especially for seniors and families with children," says Louis Rivera, owner of John's Plumbing. "But we provide remodeling services that add important safety features to your bathroom."
One of the most common problems is scalding water from improperly working water heaters. John's Plumbing recommends that hot water heater settings should be set at only 120 degrees Fahrenheit or less. To ensure that a hot water heater is working properly, John's Plumbing suggests draining the hot water heater to remove sludge and silt that could impact proper temperature regulation.
If the water heater still is not working properly, the professionals at John's Plumbing offer a wide variety of replacement water heating equipment, including the eco-friendly tankless water heaters that actually save money on water heating bills. They also specialize in installing safety water pressure regulators to ensure that family members don't get blasted with high hot water pressure in the shower when someone runs the faucet or flushes the toilet.
John's Plumbing is a local Hollywood Florida plumbing service that assists with complete bathroom remodels, including easy-to-use fixtures that are perfect for children, families and the elderly. Modernizing a bathroom can not only help make the bathroom a safer place, but also more convenient for people with special needs.
"A little bit of prevention can help make the bathroom a safer place for all members of the family," says Louis Rivera. John's Plumbing is proud to offer free estimates for shower repair and installation, bathroom faucet repair, toilet repair and installs, and bathtub faucet repair for all of its local customers.
For assistance with Bathroom Repairs, bathroom renovations, Kitchen Faucet Replacement, leak repairs, Residential plumbing repair service or even commercial plumbing services Fort Lauderdale and Hollywood area, please contact John's Plumbing at http://www.johnsplumbing.com or 954-923-4184.
Contact:
Louis Rivera
John's Plumbing
Phone: 954-923-4184
###