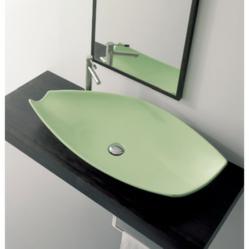 While getting the look desired (at the right price) should always be the first consideration, different kinds of sinks are better for different types of bathrooms.
(PRWEB) October 24, 2012
HomeThangs.com – the Home Improvement Super Store has made their goal to deliver the right product to the consumer, with that in mind, shopping and home design tips, as well as special product selections are being introduced.
The type of sink to install is one of the most important decisions in any major bathroom remodel. While getting the look desired (at the right price) should always be the first consideration, different kinds of sinks are better for different types of bathrooms – and some can be a lot harder to install. HomeThangs.com introduced a tip sheet highlighting a few pros and cons for the most common types of sinks - from amount of storage space to complexity of plumbing.
1. Undermount Sinks
This style gives a great, finished look and a totally flat surface, maximizing available counter space. These sinks offer lots of concealed storage underneath the counters they're installed in, too, and the cabinets underneath hide the plumbing, which usually won't have to be altered to accommodate the sink. Undermount sinks can be installed into an existing counter or vanity. Unfortunately, they must be mounted into a solid surface counter (stone or composite) and won't work with a laminate or tile counter. As well, they almost always have to be professionally installed to make sure the sinks are secure.
2. Drop-In or Self-Rimming Sinks
Drop In sinks also install into bathroom vanities and counter tops, but unlike undermount sinks have an oversized rim that rests on the edges of the counter. Probably the easiest of any type of sink to install, drop-in sinks are simply lowered into an existing hole and use primarily their own weight to secure them. As a bonus, they can be installed in any counter type, from laminate to granite. These sinks offer only slightly less counter space than undermount sinks (because of the lip), but are much more DIY friendly and otherwise offer all the same benefits. These are best for a quick and easy update.
3. Above The Counter
Above The Counter Sinks are similar to other vanity sinks in that they're coupled with a counter top. However, rather than sitting in a vanity, they rest on top of one, with the bowl of the sink usually entirely above the surface of the counter, which only has to accommodate the waste pipes. This is another great way to conveniently change the look without a lot of construction, but in this case faucet supply lines need to be built into the wall, and the vanity will probably need to be reinforced and well secured to the wall to support the sink's weight. These are definitely better for bigger construction jobs.
4. Vessel Sinks
Vessel sinks are both the most stunning and the most complicated to install. A specific type of above the counter sink, vessel sinks are essentially bowls that sit on top of a counter and drain directly into a waste intake disguised within the vanity. Faucets can be mounted on the vanity or in the wall, but either way, it takessome pretty serious renovation to install one of these, and it won't leave a lot of counter top space. On the other hand, though, vessel sinks can make great centerpieces. Made of a wide variety of materials, from stone to hand blown glass to copper, vessel sinks are designed to look like one-of-a-kind art pieces, and can give the bathroom a dramatic modern flair.
5. Wall Mounted Sink
Wall mount sink is just a sink mounted to the wall, these are especially good for small spaces or small budgets – but obviously don't offer a whole lot of room for storage. The adjustable height might be a pro for some, but mostly this type of sink is best for a bathroom that doesn't have room for much else. Wall mount sinks are also great for half bath or a powder room, where the storage space a vanity has to offer is simply not needed. Many of them come in stunning, sometimes complex designs that you won't find in any other types of sinks.
6. Pedestal Sink
Pedestal sinks are a good compromise for smaller spaces. Again, plumbing has to run through the pedestal and usually into the floor, but for a small space one can't beat it for elegance and style. While there's plenty of room for a toothbrush and a bar of soap, going this route will mean a lot less space to store things one would rather not have out in plain sight.
HomeThangs.com is not only a home improvement superstore, it also provides expert design tips and a comprehensive shopping guide, taking the ideas from professional interior designers, and offering tips to the consumers on how to pick the products to best suit their needs.