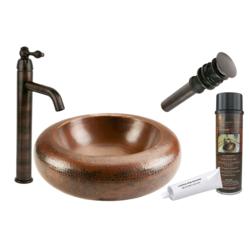 While swapping out a sink is a great way to give the bathroom a fast facelift, upgrading to a vessel sink means the vanity top and faucet have to be replaced as well.
(PRWEB) December 11, 2012
HomeThangs.com – the Home Improvement Super Store has made their goal to deliver the right product to the consumer. With that in mind, shopping and home design tips, as well as special product selections are being introduced.
Upgrading to a vessel sink is quickly becoming a popular choice for luxury and modern bathroom renovations. While installing a new vessel sink is not more complicated than installing any other type of sink, it may be more involved. While swapping out a sink is a great way to give the bathroom a fast facelift, upgrading to a vessel sink means the vanity top and faucet have to be replaced as well. So for those who love the look but aren't sure how to go about getting it, HomeThangs.com introduced a few tips on things to consider before taking the plunge.
1. Vessel Sinks Are Shaped Differently
Vessel sinks obviously serve the same function as undermount or drop in sinks, but they tend to be more obviously bowl-shaped. Most importantly, they sit directly on top of the vanity instead of nesting inside or underneath the counter. That means that the existing hole for the current sink is way too big for a vessel sink to be a simple, easy swap. The opening in the counter should be just big enough to accommodate the sink drain, with the base of the sink sitting on the counter around it.
2. Vessel Sink Faucets Are Different, Too
Not only is the hole for the sink in the current bathroom vanity too big for a vessel sink, chances are the existing faucet would not fit a vessel sink. Because vessel sinks sit above the level of the counter, faucets that feed them have to be taller, too.
3. Height Matters
Replacing a vanity top is probably an issue that would come up pretty quickly in the process of installing a vessel sink, but one issue most people probably won't realize until it's too late is that the height of the sink itself can also be an issue. Vessel sinks, when installed, can rest a good 6 inches higher than a standard sink, and if the bathroom vanity is very tall by itself, it can become uncomfortable to use. So before upgrading, it is important to double check to see just how tall the finished product will be, or look for a shallower vessel sink.
4. Faucet Installation Type
Vessel sink faucets are shaped differently out of necessity, but they still come in a wide variety of shapes and styles, from unique matching waterfall-style faucets to ultra-sleek modern and even surprisingly ornate vintage designs. But for those who hate post-style sink faucets no matter how they're packaged, another option for a vessel sink is to mount the faucet directly to the wall. This requires a little more complicated construction and installation, but creates a sleek, finished look that works equally well for a modern or vintage design, and makes for an easier-to-clean counter top.
5. Matching a Faucet
The majority of vessel sink faucets are the post style or wall mounted versions, but many glass vessel sinks are designed with gorgeous matching waterfall-style faucets made of the same type of glass and with a similar bowl-shape. Many vessel sinks come paired with specific faucets, but something like the Bronzed Glass Sink from Vigo Industries goes beyond simple pairing to true coordination, creating a unique, eye-catching, innovative design that truly integrates the faucet into the sink, but is anything but traditional.
6. Buying a Package Set
Since one has to buy a new faucet if getting a vessel sink anyway, it can make a lot of sense to look for a packaged set and buy the two together. Buying a faucet/sink combo can save money, and should be a no-brainer if planning on buying a faucet that matches the vessel sink. It is also recommended to consider combo sets if looking to buy a metal sink – especially copper – because it can be difficult to match finishes across different brands or collections. Whatever kind of sink you buy, look for value in your package deals, and be sure to note what all is included. The Wired Rim Sink Set from Premier Copper, for example, comes with a matching drain assembly, copper wax and cleaner, and a special colored silicone for a seamless installation.
HomeThangs.com is not only a home improvement superstore, it also provides expert design tips and a comprehensive shopping guide, taking the ideas from professional interior designers, and offering tips to the consumers on how to pick the products to best suit their needs.