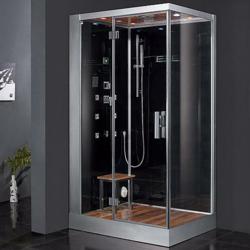 Plumbing, tiling, and constructing a custom shower – or especially a steam shower – from scratch can be expensive and time consuming. Pre-build steam shower enclosures offer a simple solution.
(PRWEB) February 14, 2013
HomeThangs.com – the Home Improvement Super Store has made their goal to deliver the right product to the consumer, with that in mind, shopping and home design tips, as well as special product selections are being introduced.
Whirlpool tubs were at the forefront of luxury bathroom design for years, but these days the focus is all on showers. Multi-sprayer custom showers and sprawling steam showers are more conductive to a busy lifestyle, and steam showers especially come with a whole host of health benefits one can enjoy in quick 15 minute chunks. But plumbing, tiling, and constructing a custom shower – or especially a steam shower – from scratch can be expensive and time consuming. HomeThangs.com introduced a few tips to help homeowners decide which would work better for them – a custom made steam shower, or a pre-made one.
1. Appearance
A big, sprawling custom shower in a magazine or on TV is almost always a big, beautifully tiled space, maybe built to fit ten or so. This is sort of the presented ideal of a custom steam shower – a lovely, enclosed space that echoes the Roman baths, the most iconic originator of the steam bath. But while some pre-made steam showers have the clunky, slightly cheap acrylic look of a shower/tub combo, this isn't always the case. In fact, many pre-made steam showers, like the gorgeous built-in Wooden Floor Shower from Ariel, for example, are made of highly modern glass and brushed steel. It isn't quite the classic look of tile, but it has it's own modern elegance, which might actually work better depending on the bathroom design.
2. Water Tightness
One of the biggest challenges in building a steam shower from the ground up is ensuring that the enclosure is entirely water tight. One definitely wouldn't want the steam in the shower to get out, as it can wreak havoc on the rest of the bathroom. But that means that instead of having an elegant frameless shower door that just goes so high, or even one that simply clicks into place might not be enough. One would need to enclose the shower door completely (which can mean building the shower all the way up to the ceiling), and ensure all the edges are water tight. Pre-made steam showers have the distinct advantage of being water-tight from the get-go, meaning that something like the corner Steam Shower Enclosure by Ariel can be installed freestanding rather than in the recessed niche required by a more traditional steam bath.
3. Cost
The price of a custom steam shower can vary widely depending on the existing bathroom layout, the size of the shower, the tile, shower door, and fixtures, as well as the individual contractor. It's really one of those projects one can make as big as one wants, but it's also a project that won't ever be small. Conversely, a built-in steam shower, like Ariel's Shower For Two for example,has one flat, up-front cost for all the parts, and aside from installation (which is usually fairly simple also, as the unit is entirely self-contained), there aren't any additional or hidden costs. For those who want the steam shower to be the focal point of the bathroom, it makes sense to bend the budget for tile, but if the spending is already limited, it might be worth the predictability of a built-in.
4. Plumbing
There are two main issues with steam showers when it comes to plumbing: water pressure and cost, and the two are intricately linked. First, a custom steam shower, with it's many shower heads and high water output, can require everything from rerouted plumbing, a new shower floor, and a wider drain to a whole new (larger) water heater. Pre-made steam showers work with existing plumbing almost without exception, saving one from the extensive and often unexpected expenses. But, unfortunately that's true because pre-made steam showers typically either have fewer shower heads, can't run all their shower heads at once, or can't run them all with the same level of water pressure one would have with a larger water heater.
5. Size And Space
One of the primary considerations in any bathroom remodel is going to be space, and the size of the steam shower – whether it's custom built or pre-made, is one of the first considerations one will have to undertake. It's entirely possible to build a small custom steam shower. Steam generators are usually no larger than a bread box, and can be installed somewhere in the range of 20 feet away from the shower itself, meaning one can place the generator in another room or even on a different floor, with just a few thin pipes in between. But instead of investing in tiling, plumbing, and so on for a custom shower, one might consider opting for a pre-made one like the Platinum Steam Shower by Ariel, which fits easily in a corner and has the steam generator already built in.
6. Who Will Be Using It (And How)?
Finally, it is also important to consider who will be using the steam shower and how. Will it primarily be used for morning showers for one? Post-workout steam baths for two? Long, luxurious showers with a partner? The answer to this question will probably affect the answers to other important questions – how large should it be, where to put it, what it should look like, and how much water pressure is needed. When building a custom shower, it's easy to get exactly the size, shape, and layout needed, but pre-made steam showers come in a variety of designs, too, to fit any bathroom.
HomeThangs.com is more than just a Home Improvement Superstore. They're constantly seeking to provide homeowners and designers with the right products at competitive prices. With a wide selection of products, expert design tips, and comprehensive shopping guides, Homethangs is a company that's there at all stages of the design process, from idea to execution. It's their goal is to make dream remodels doable.