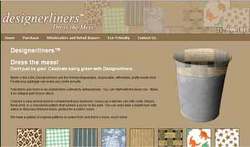 In such troubled times we can all use a lift, so I decided to put the pattern on the inside of the trash bag where it's clearly visible and the user can enjoy it
New York, NY (PRWEB) October 3, 2008
Designerliners presents an innovative product that allows users to responsibly dispose of waste while accenting their own personal style. With a gallery of patterns imprinted on the interior, Designerliners turns the plain bathroom trash can into a receptacle that makes a statement. The pretty, patterned bags are suitable for office use and for clever decorating ideas at home.
"In such troubled times we can all use a lift, so I decided to put the pattern on the inside of the trash bag where it's clearly visible and the user can enjoy it," says Muriel Wiener, creator and owner of Designerliners. "The product is less expensive than paint, furniture, or even the waste can itself. Designerliners are easier to assemble than a shower curtain and put a finishing touch on any room for pennies. You can dress the mess and smile while you do it."
According to Wiener, the product is the only one of its kind currently on the market. Other companies only offer patterned bags with the design on the outside of the bag where the pattern gets concealed by the receptacle, limiting the aesthetics of using a creative trash bag.
Designerliners inspire clever decorating ideas at minimal cost. Whether the project is decorating a den that needs a splash of color, or decorating kids rooms with a touch of whimsy, Designerliners offer a practical solution.
For decorating executive offices, Designerliners has several designs that are more subdued to enhance and blend with the general office décor. These liners are also suitable in cubicle decorating for personalizing a small space. Office personnel can "dress the mess" in small wastebaskets for a lift at work. The liners are available in packs of 12 for individual home use as well as in bulk for wholesale buyers.
Room decorating ideas aside, Designerliners are also eco-friendly. "We're more than glad, we're green. And we are proudly made in the USA," says Wiener. "Our indoor trash can liners are biodegradable, so you can feel good knowing they won't trash the planet." Biodegradable bags break down quickly and have a positive impact on landfills.
For bathroom decorating, office decorating, master bedroom decorating, or for accenting any other indoor trash can, Designerliners offer clever decorating ideas that are cost effective and environmentally friendly. Check out Designerliners.com to see the gallery of available patterns or to receive a quote on custom liners.
About Designerliners, Inc.:
After a 25-year career in the ad-specialty business, Muriel Wiener invented Designerliners and formed the company Designerliners, Inc. to promote and distribute the product. Designerliners is based in New York, but ships anywhere in the United States for both the retail and the wholesale customer. Prices vary by quantity and design.
###