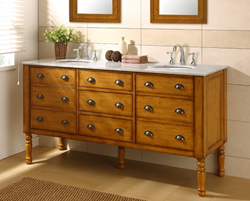 The simple, elegant lines of a transitional or contemporary vanity leaves the hardware to do the heavy lifting, so even simple knobs and pulls can be attention-grabbing, particularly in large lumbers.
(PRWEB) July 17, 2014
HomeThangs.com – the Online Home Improvement Store – has made their goal to deliver the right product to the consumer. With that in mind, shopping and home design tips, as well as special product selections are being introduced.
Everyone knows that one of the fastest ways to update a bathroom is to swap out the cabinet hardware. It's a subtle but effective change that can make a surprisingly big difference in the look and feel of a bathroom vanity. One of the biggest trends in bathroom vanities right now takes this a step further, using big, bold cabinet hardware – and lots of it – as a defining feature. HomeThangs.com has introduced a guide to using excessive, decorative drawer pulls to give both traditional and contemporary vanities a distinctive designer flair.
Most bathroom vanities have, at most, one door or drawer pull per door or drawer, maybe two on a dresser style vanity. But these new vanities are completely covered in them in neat, uniform rows and columns, regardless of whether or not they're actually needed for anything. That means cabinet doors with four or more drawer pulls spaced out evenly across the surface, often designed so that they appear to be mounted to a drawer front.
The result is a vanity that looks like it's covered in many small drawers, like an old fashioned apothecary chest or card catalog. They often use similar, cup-style drawer pulls or large, distinctive ring pulls – hardware that's simple yet bulky, and acts as a firm and highly visible centerpiece for each "drawer" whether or not it's actually a functional one. Between the real and stylized drawer fronts and hefty hardware, bathroom vanities in this style have an incredible tactile quality and are vastly more visually interesting, both up close and at a distance, than more traditional vanities where the hardware is primarily functional.
Vanities that feature this type of distinctive cabinet hardware are typically transitional or contemporary in design, with simple, elegant lines and a relaxed, casual look and feel. This leaves the drawer pulls to do the heavy lifting in terms of design, acting as the points of visual interest and giving otherwise very simple, subtle vanities a sense of sophistication and designer flair. The cup style drawer pulls aren't particularly ornate, so they work well with a contemporary style, but are distinctive enough – particularly in large numbers – to give the vanity a nice sense of style.
Traditional vanities can get the heavy hardware treatment too, but in that case, instead of letting the hardware take front and center, they just become another part of the detail work and are often supplemented with ornate woodwork. The hardware itself tends to be a little more detailed and intricate too, skewing toward decorative ring pulls rather than simple cup pulls. The addition of this hefty hardware tends to give a more traditional vanity a much more masculine appearance, particularly when paired with very dark wood.
Regardless of the style of the vanity or the hardware, the appeal of this design lies as much in the pleasant symmetry of a grid of identical drawers as the presence of the hardware itself. The drawers don't have to be perfectly square like they would be in an apothecary chest, but they do all need to be the same size and shape, spaced evenly across the whole front face of the vanity, and have identical drawer pulls. Whether the drawer faces are thin, square, or more like traditional bureau cabinets, what's important is the repetition of the pattern.
It's worth noting that while these vanities are covered in drawer faces, they aren't necessarily composed entirely of drawers. Many include regular cabinets, but the doors are specifically designed to blend in so that the two are indistinguishable at a glance and the pattern is kept intact. That said, this type of bathroom vanity is more likely than most to actually feature many small drawers, but it's important to look closely and double check what storage features the vanity actually has.
For more information about using hardware to create an apothecary style bathroom vanity, check out the full article here.
HomeThangs.com is not only a home improvement superstore, it also provides expert design tips and a comprehensive shopping guide, taking the ideas from professional interior designers and offering tips to the consumers on how to pick the products to best suit their needs.