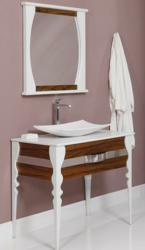 To turn a bathroom vanity into a statement piece, it needs to be dramatically different.
(PRWEB) June 20, 2013
HomeThangs.com, the Online Home Improvement Store has made their goal to deliver the right product to the consumer. With that in mind, shopping and home design tips, as well as special product selections are being introduced.
There are two schools of thought when it comes to choosing a bathroom vanity. First is the belief that they should be more like kitchen cabinets – built in and designed primarily for utility. On the other end of the spectrum are those who believe that bathroom vanities offer a somewhat rare opportunity to personalize and dress up a space that's frequently composed of fairly generic elements. For those in the second camp, HomeThangs.com has released a guide to choosing a unique, stylish bathroom vanity that's as much objet d'art as it is built for utility.
Most bathroom vanities aren't terribly interesting to look at. Now, this isn't always a bad thing – many vanities are built for utility, while others are made to match a specific type of decor. But even very lovely, well designed pieces tend to have something of a sameness to them – similarities in size and shape, color and design, that prevent them from really acting as a focal point. To turn a bathroom vanity into a statement piece, it needs to be dramatically different.
An overwhelming majority of bathroom vanities are either rectangular or square in shape. From antique double vanities to the most compact wall mount vanities on the market, 90 degree angles are the default and then some. The corollary of this, of course, is that simply choosing a non-square cabinet is one of the simplest ways to make a statement with a bathroom vanity. Rounds and triangles are the most common alternatives, and even something as simple a conical shape will draw the eye and act as a focal point of the space.
The use of real wood has started to go out of vogue in the furniture making world, and this includes bathroom vanities. Of course it's still possible to find solid wood bathroom vanities, and many models are still at least made with wood frames, but many more are painted or made of MDF or particleboard. Few bathroom cabinets highlight the natural beauty of wood and woodwork. For a style that will stand out, look for bathroom vanities with beautiful patterned wood veneers.
Bathroom vanities are occasionally painted – sometimes a solid color (and sometimes even a bright one) and sometimes with pretty little floral work or other antique-inspired detailing. But it's rare to find one with a design that's meant to draw the eye, and that can make all the difference. Even a square, simple vanity can be spiced up with patterning, like check patterned wood panels or other simple alternating pattern.
Very few bathroom vanities have textured surfaces. Now, sure, many of them have carved wood detailing along the legs and corners, and not a few use weathered paint or wood to add visual interest, but only a few cover the front face with intricate raised pieces. This can be either elaborate woodwork, or for a more modern bathroom vanity, a raised, studded pattern. This stands out for its sheer uniqueness, and will draw the eye to its intricate detailing.
Ultimately, the best way to get a bathroom vanity that will work as a stylistic focal point is to look for one with a stylized design. That can be the strategic use of shape, color, woodwork, or really any other element that makes the vanity dramatically different from the norm.
To see more unique bathroom vanities in action, read the full article here.
HomeThangs.com is not only a home improvement superstore, it also provides expert design tips and a comprehensive shopping guide, taking the ideas from professional interior designers, and offering tips to the consumers on how to pick the products to best suit their needs.