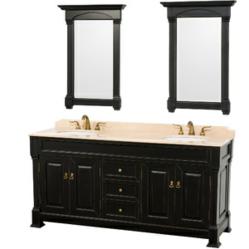 Made of quality materials with earth-first processes, Wyndham's sleek, stylish contemporary and modern bathroom vanities are not only good for the environment, but are also great to look at and built to last a lifetime
(PRWEB) August 29, 2012
HomeThangs.com – the Home Improvement Super Store has made their goal to deliver the right product to the consumer, with that in mind, shopping and home design tips, as well as special product selections are being introduced.
"Going green" is all the rage these days – from energy efficient appliances to fancy new water bottles. HomeThangs.com introduced a line of eco-friendly bathroom furniture - made of quality materials with earth-first processes, Wyndham's sleek, stylish contemporary and modern bathroom vanities are not only good for the environment, but are also great to look at and built to last a lifetime. Product specialists at HomeThangs presented a fact sheet on Wyndham vanities to educate the consumers on the manufacturing process and the benefits of "going green" with Wyndham Collection.
1. Wyndham Collection vanities are held to the highest environmental standards at all stages of production. On the most basic level, Wyndham uses only FSC (Forest Stewardship Council) certified oak hardwood in the construction of all their bathroom vanities. That means a few different things. First, that all wood used in the vanities is harvested from sustainable sources. The source trees are grown and culled conscientiously, not strip cut. Secondly, it means that all forest management policies are monitored in the area the wood is taken from, verifying that the area will continue to produce evenly and making certain that the health of the forest takes precedence. Finally, all the wood that Wyndham uses can be traced directly back to the source.
2. The use of only solid hardwood with the occasional real wood veneers also means that Wyndham Collection vanities will be much more durable than inexpensive MDF or plywood pieces. While many MDF and plywood vanities are marketed as eco friendly bathroom vanities because they reuse scrap wood rather than harvesting solid wood, the quality isn't the same, and the particle boards may even be bound with harmful chemicals, depending on the brand. As well, while almost all of the vanities have a lacquered finish, one can still see the wood grain which gives each piece a unique, natural beauty that one won't find in many eco-friendly pressed board bathroom vanities.
3. Once the wood is selected, each vanity is assembled using only natural adhesives with low or no VOCs (volatile organic compounds) which prevents outgassing. That means that no toxic chemicals or gasses are released during the construction of the vanity.
4. Each vanity undergoes an 8-12 stage finishing and sealing process. Once again, Wyndham prides itself on using a zero emissions process that makes their wood vanities highly warp resistant, and a low-VOC finish makes it highly water resistant. Again, this is beneficial for reasons that go above and beyond concern for the environment. Wyndham vanities like are some of the best suited to constantly changing wet conditions available. Even in splash-prone areas like a kids bathroom, Wyndham Collection vanities are designed to stand up to tough moisture conditions better and longer.
5. Green building practices can qualify for all kinds of tax credits, rebates, and other financial incentives. The more earth friendly materials and technologies used, the greater the incentives will be. The details need to be checked with the state's specific regulations on the issue, but opting for green bathroom fixtures like Wyndham vanities coupled with low flow toilets, shower heads, or faucets can actually make a pretty big difference in the bottom line of the budget.
6. Moreover, buying an environmentally conscious vanity isn't just eco-friendly and wallet-happy, it can be good for the health, too. Many bathroom vanities (or cabinetry and furniture in general) use harsh chemicals during production. From formaldehyde to a whole array of volatile organic compounds and toxic adhesives, conventionally made pieces of furniture are often processed and assembled with materials that are not only damaging to the environment, but which can also contaminate the air inside the home. Processed wood and chemical adhesives can release toxins into the bathroom over the life of the vanity, which can cause lung problems and even cancer over time, especially in a poorly ventilated space. But Wyndham's vanities are zero emissions across the board, not only during the production process, but over the life of the vanity as well.
HomeThangs.com is not only a home improvement superstore, it also provides expert design tips and a comprehensive shopping guide, taking the ideas from professional interior designers, and offering tips to the consumers on how to pick the products to best suit their needs.