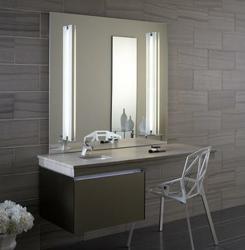 A simple bridge between two matching vanities is a relatively inexpensive addition that provides the full functionality of a custom makeup station.
(PRWEB) June 14, 2013
HomeThangs.com – the Online Home Improvement Store has made their goal to deliver the right product to the consumer. With that in mind, shopping and home design tips, as well as special product selections are being introduced.
Typically, bathrooms with dressing tables are big bathrooms with custom made cabinetry. Most pre-made bathroom vanities, even larger ones, are made of solid continuous cabinets without the interruption needed to be able to sit and apply makeup comfortably. But not everyone wants or can afford a set of custom cabinetry, so HomeThangs.com has introduced a few simple workarounds to building a permanent dressing table from a pre-made bathroom vanity.
1. Table Style Bathroom Vanities
The simplest way to merge the functionality of a bathroom vanity and dressing table, especially in a small bathroom, is to opt for a table style bathroom vanity. These tend to be very basic, nixing cabinet storage in favor of wide open leg room that leaves enough open space to sit comfortably in front of it. Though this type of vanity is obviously a little short on storage, it's the simplest way to get a make up station without any custom work.
2. Very Wide Vanity
Wider table style bathroom vanities work even better, especially ones with an offset sink. This layout leaves more room for hair care products, makeup, and toiletries, and allows for more storage space at either side without blocking leg room. Of course, this set up requires a much larger mirror, preferably a frameless one at least as wide as the vanity for the greatest ease of use.
3.More Traditional Cabinet Style
Though they tend to be few and far between, there are modular pre-made cabinets designed for a larger bathroom that include makeup stations. Though these are only a step or two away from custom cabinetry, because each piece is manufactured individually, large modular vanities can be much less expensive than the "real thing."
4. Wall Mounted Vanities
Wall mounted bathroom vanities can also be used to create a makeshift dressing table, but doing so requires some care. Because these bathroom vanities can easily be mounted at any height, it's not terribly difficult to mount one at a height that's comfortable both for standing and sitting. That said, this will only work with vanities that are relatively short, or that have very thin counters that extend from the main body of the vanity. Otherwise, they won't be comfortable to sit at.
5. Build A Bridge
For thicker wall mounted vanities, look for modular designs with pieces made to bridge two or more vanities together. Again, this will likely need a non-standard mirror to work well, but a simple bridge is a relatively inexpensive addition that creates just enough space to sit between two larger vanities. Essentially, this creates a wide double vanity with a dressing table in the middle, without the expense of having the cabinetry custom made.
6. Extended Counter Tops
Wall mounted vanities with counters that extend out to one side are ideal for use as dressing tables, as they offer not only a full sized vanity for storage but also a rather roomy dressing table. And again, because wall mounted vanities can be installed at any height, they're easily matched to a preferred height without a whole wall-length cabinet built to match.
To see more bathroom vanities with makeup stations, or for more ideas on how to build one, read the full article here.
HomeThangs.com is not only a home improvement superstore, it also provides expert design tips and a comprehensive shopping guide, taking the ideas from professional interior designers, and offering tips to the consumers on how to pick the products to best suit their needs.