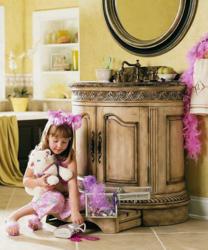 What sets the Bathroom In A Box collection apart from other bathroom vanity combos is that they're more about total design than mass-produced budget solutions.
(PRWEB) November 27, 2012
HomeThangs.com – the Home Improvement Super Store has made their goal to deliver the right product to the consumer, with that in mind, shopping and home design tips, as well as special product selections are being introduced.
Not everyone is a designer, and no matter how many hours one spends plastered to the favorite home remodel show, making great bathroom design choices and pairings might never come naturally. Getting the perfect look for the bathroom vanity takes hard work, time, searching, and a little bit of a natural eye. HomeThangs.com introduced vanity combos from a Bathroom In A Box Collection by Cole+Co, for those who want to skip some of the heartache and hassle of trying to mix and match vanities, counter tops, sinks, and faucets from different companies.
1. What Is Bathroom in a Box
The Bathroom In A Box Series is made up of the high end, luxury, decorative bathroom vanities that Cole+Co is known for. But these bathroom vanities are part of combos that are custom pared with vanity tops, sinks, and faucets that match and accentuate the design of the vanity itself. Many of these bathroom vanity combos also include additional pieces, like mirrors, to compliment the set and round out the bathroom. This Charlotte Sink Chest even comes with a built in stepping stool to make it more accessible to children.
2. Stress Free Design Decisions
First and foremost, choosing a bathroom vanity combo alleviates a lot of difficult decision making. While most companies would just offer the vanity by itself, leaving you to purchase, fit, cut, and install a vanity top, sink, and faucet, something like the Gatsby Vanity from Cole+Co ships to with all the parts included, cut to size, and ready to assemble. Plus, each of the components are hand picked by their designers, ensuring that it is a quality wood or natural stone vanity top that matches the vanity, and beautifully coordinated fixtures.
3. Affordable Options
One of the biggest expenses – and stresses – of buying a pre-made vanity is trying to find, match, fit, and install a stone vanity top. It can be so difficult to know what will look good, what will hold up well, and just exactly how to get it to fit right, to say nothing of paying to have it all done. But manufacturers like Cole+Co that offer bathroom vanity combos reduce the total cost of their bathroom vanities by buying the stone for their vanity tops in bulk. Not only do their designers choose the stone for their individual vanities, ensuring that they'll look good. They also custom cut all the pieces to fit together – the vanity top on the New Hollywood Vanity perfectly fits the contours of the vanity, as do the openings for the sink and faucet.
4. Genuine Designer Style
What sets the Bathroom In A Box collection apart from other bathroom vanity combos is that they're more about total design than mass-produced budget solutions. Each piece is designed with care, and while, yes, they're more affordable, they're also each uniquely beautiful. No two of Cole+Co's designs are the same, and each and every one is crafted to be a beautiful, signature focal point of the bathroom. Many, like the Barcelona Vanity, even have beautiful, hand painted detailing that produces a spectacularly sophisticated finish without the troubles or trials of having to try to do it yourself.
5. A Design For Any Bathroom
While many of Cole+Co's bathroom vanity designs are made with an eye towards antiques and vintage furniture styles, their Bathroom In A Box collection runs the gamut from totally traditional to surprisingly modern, with country cottage and even Asian-inspired bathroom vanities in between. Whether looking for an ornate antique style, or something simpler like the rustic, slightly weathered Heirloom Vanity, the Bathroom In A Box collection offers a spectacular variety of high end designs, all complete and all packed neatly in a box shipped right to your door.
So if looking for a sophisticated, designer style, but don't quite think of yourself as a sophisticated designer (or want to do that kind of leg work!), Cole+Co's bathroom vanity combos from their Bathroom In A Box collection are a great, simple, affordable way to get a high end design.
HomeThangs.com is not only a home improvement superstore, it also provides expert home design tips and a comprehensive shopping guide, taking the ideas from professional interior designers, and offering tips to the consumers on how to pick the products to best suit their needs.