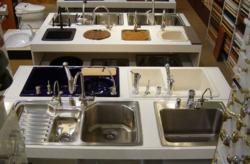 San Francisco, CA (Vocus/PRWEB) November 17, 2010
Designers, architects, plumbers, and homeowners are invited to The Bath + Beyond showroom in San Francisco this week to attend a specialty course focusing on kitchen sink design styles. The class, worth one continuing education unit for licensed designers, will teach students how to tie together different design styles, materials and accessories as they relate to kitchens. It also covers what influences consumers when purchasing kitchen sinks.
It will be held Thursday, November 18, 2010 from 9:30-10:30am at The Bath + Beyond showroom located at 77 Connecticut Street at 17th Street in San Francisco's Potrero Hill neighborhood.
"The class will focus on how to choose the best kitchen sink for the home," said Joni Burton, owner of The Bath + Beyond. "Although the course is geared to educate designers and architects, homeowners and plumbers will learn and benefit from the session."
In addition to design style, The Bath + Beyond will answer questions regarding compliance with California Assembly Bill 1953 (AB-1953). This California law defines the new requirements for the dispensing of water for human consumption as related to faucets.
For expert more information about The Bath + Beyond or San Francisco kitchen design tips, view their website bathandbeyond.com or visit their showroom located at 77 Connecticut Street, San Francisco, CA 94107.
About The Bath + Beyond
The Bath + Beyond is a full service bath and kitchen showroom in San Francisco specializing in decorative, traditional, and modern plumbing fixtures. In-house design experts assist San Francisco residential architects, plumbers, designers, and hoeowners plan residential and commercial bathroom and kitchen remodeling and renovation projects.
###