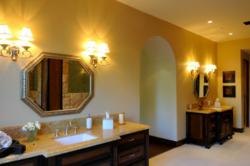 Focusing on creating the best results for our clients is the main reason more people choose us as their bathroom remodeling contractor. Call us at 877-215-0065
Los Angeles, CA (PRWEB) August 22, 2012
LA Build Corp's home remodeling and design team works personally with each individual client to custom design a state of the art bathroom that blends comfort and style. As one of Los Angeles leading homebuilders and designers with over two decade of experience, LA Build Corp has the skills to utilize what is the trend among homebuyers in the current market with a timeless elegance.
"Having build so many houses in Southern California, we make it a priority to know what it is that our clients and the market demands. we help our clients make the best choices when investing time and money in building or remodeling their homes." Says Ami, president of LA Build Corp.
When taking on a bathroom remodeling in Los Angeles, if the possibility of selling or renting that home is more than 30 percent, it is essential for homeowners to keep with the trends that are selling points and incorporate that with their own personal style. This is where consulting an expert home remodeling contractor in Los Angeles is beneficial.
Top 6 budget friendly bathroom remodeling trends:
1. Tiles: linoleum flooring and glazed tiles are completely outdated. But an elegant bathroom remodeling doesn't have to incorporate highly priced imported marble to brighten the floor or walls. Instead of the traditional glazed tile, porcelain tile, or stone tiles are more reasonably priced and can fit any budget. They actually have more warmth to them and have a timeless and effortless look that work with any décor. Glass tile is also gaining in popularity with a lot of home renovations in Los Angeles.
2. Clever storage: Additional storage is a big need in bathroom remodeling, but its important that it is planed right and does not take away from the open and airy bathroom design. Big, deep drawers don't work in bathrooms like they would in a kitchen. Vertical storage is becoming more and more popular, as well as smaller drawers with dividers. A well designed bathroom vanity also can be additional storage as it can be the masterpiece in a bathroom.
3. Large and airy showers: opening up the shower "a huge, huge trend, in smaller bathrooms, homeowners are tearing out the tub to expand the shower. Without the bathtub, the stall gets larger, more airy. Some homeowners are taking a more European approach to this, taking out partial shower walls, or all shower walls entirely, and turning the entire tiled bathroom into a shower. Although this requires a skilled bathroom remodeling contractors, as requires well planned drainage
4. Soaking tubs: In many bathroom renovations soaking tubs are starting to replace the noisy Jacuzzis. The tub is making a comeback and becoming trendier, however; it's just changing. Many homeowners done the strong jetted Jacuzzis and now to experience quiet, serene spa like bathrooms they often look into soaking tubs. The jet-less tubs are often deep, insulated tubs like free standing contemporaries or Victoria + Albert, do not require the huge amount of decking.
5. Better ventilation: What bathroom couldn't use better and quieter ventilation? Good bathroom ventilation not only clears off mirrors ASAP, it also extends the life of the finishes. The remote fans are becoming more popular, with the motor elsewhere, like the attic, they have about 10 times as powerful as the traditional fans and cost roughly $50 more. They're also extremely quiet if installed properly; also fans with humidity sensors that switch on automatically are big in the market.
6. Let the sun shine: When it come to Bathroom and Kitchen remodeling in Los Angeles many homeowners want their kitchen and master bathrooms to be brighter and more sun-filled. This can means adding windows or even skylights.
Choosing the right remodeling contractor is as essential as the remodeling plan itself. An expert and seasoned general contractor in Los Angeles can easily walk through a bathroom and advise on the best course of action to take. They can also help to set a realistic budget and pick a design that not only match the needs of the homeowners today, but also be suitable for their future plans, whether it is a home for a growing family or an investment house.
LA Build Corp has a group of professional bathroom remodeling contractors working closely with home designers and experienced home remodeling project managers, which ensures staying on schedule and budget, and avoiding miscommunications that would only create stress and extra coast to the homeowner.
To get more information on bathroom remodeling designs, and to get a free consultation and estimate, Call (877) 628-5292.
Remember to ask about the Free Vanity offer with bathroom remodeling projects.
Call (877) 628-5292 or visit http://labuildcorp.com/