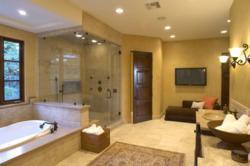 Bathrooms are not just a place to clean up and get ready in the mornings any more. They are becoming a place to unwind and relax to wash up the stress of everyday life. LA Build Corp 877 628-5292.
Los Angeles, CA (PRWEB) October 27, 2012
Where most general contractor and construction company focus on a single benefit for bathroom remodeling, LA Build Corp aims to give all the benefits they can possibly achieve in all their housing projects. Most would wonder why aim for the best when this could be considered overspending and unwise move in the recent state of the economy. Many studies disagree, stating that Los Angeles Bathroom Remodeling and generally in the western region of the country has shown that the return on the original money invested can go up to 112% if done right.
To provide their clients with all the benefits of their bathroom remodeling service, LA Build Corp makes use of tips and trends that they have mastered in their years of experience in the remodeling business.
Recessed Spaces. To save up on precious space and to achieve a vintage look for bathrooms, shelves, cabinets, soap dishes and toilet roll handers can be created within a bathroom walls. Style and space management can be merged to create these box build ins that are traditional yet trendy at the same time.
Eco-friendly and Environment Suitable Flooring. Teak is considered one of the better replacements for traditional bathroom flooring such as linoleum and porcelain tiles. Its water resistance and eco-friendliness makes it a prime candidate for floorings especially in high-moisture environments. For those who are situated in different environments, other options for floorings are also available.
-Cohesive Color Scheme. LA Build Corp can utilize different colors to match any theme that is selected for a bathroom remodeling project. Whether going for trendy or traditional, an experienced bathroom remodeling contractor in Los Angeles will choose the right color combination that work in harmony to create a unique space from the floor to the ceiling.
Specialized Lighting. Lighting can be very important, especially for remodeling master bathrooms. LA Build Corp has expertise in lighting installations whether by using ceiling lights or other lighting fixtures that can be manipulated to work with mirrors to achieve a natural, calming ambiance. The option to go all out with the bathroom remodeling project by installing a skylight is also available.
-Why not creating spa amenities in every home. "Save up on spa vacations an unwind at the end of every day by having the amenities installed right in your own bathroom." Say Ami, and expert bathroom remodeling contractor in Los Angeles California. Steam baths and other spa installations can be added in almost any bathroom remodeling project for accessible luxury and convenience.
Large, Open and Airy Showers. Following Asian trends that has been spreading in Los Angeles, clients can expect their showers to be remodeled to induce a light and meditative Zen experience in their own bathrooms.
With LA Build Corp's over 20 years of expertise in home remodeling in Los Angeles area, clients can plan and manage their resources optimally to get the bathroom remodeling of their dreams that is worth every penny spent and more. Having an A rating with the Better Business Bureau, customers are assured that the BBB has sufficient information on this company and that all clients have received complete satisfaction with no complaints filed with BBB.
To get the most satisfactory bathroom remodeling in Los Angeles or the surrounding areas, call Southern California's number one choice in home remodeling at 1(877) 628-5292 for a free estimate or visit their website for more design ideas and information. LA Build Corp has over 20 years of experience as a general contractor and construction company that understands the importance of home remodeling to homeowners. A free bathroom vanity offer generally valued at $700 awaits those who would schedule a full bathroom remodeling.
1(877) 628-5292
Tusana.net