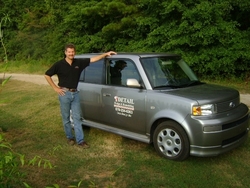 "Is Not Made With Lead and is Non-Poisonous" 1897 Aspinallis Enamel Advertisement
Atlanta, GA (PRWEB) May 14, 2010
Today Robert Warren of Detail Design & Remodeling answers the questions homeowners are asking. How does this new EPA lead rule affect me? And how does it affect my kitchen remodel or bathroom remodel?
The new rule excludes renovations performed by homeowners in their own homes. After going through the training Robert realized how dangerous a situation it is when you disturb lead based paint. If a homeowner decides to do a kitchen remodel or bathroom remodel on a home built prior to 1978 they could be risking the lives of the ones they love most. The biggest problem is dust! That is what most of the training is for, to prevent the lead based paint from becoming airborne dust. "I would recommend anyone who lives in a home built prior to 1978 to have the area they are about to renovate checked for the presence of lead."
"If the area checks positive for lead I would seriously consider letting a certified contractor do the work." Are you willing to live with the fact that you made your family sick because you weren't trained in working with lead infected construction areas? When remodeling a kitchen or remodeling a bathroom that is infected with lead paint it is required to close off the area from the rest of the house. This is to contain any dust that might be loosed into the air while working on the space. If you go out of the space to get a tool or some material you have to take off your suit and other protective gear as you leave and then put it back on when you return. It can be very cumbersome.
Will this new Lead Rule cost a homeowner more money to do a kitchen remodel or a bathroom remodel? First of all let's look at how many houses the EPA says has potential for lead based paint. If your house was built from 1960 - 1978 it has a 25% chance of having lead based paint. If it was built from 1940-1959 it has a 66% chance of having lead based paint. Before 1940 it would be an 86% chance of having lead based paint. The age of the home is a big factor in determining the chance of lead. If it tests positive for lead then Warren estimates it would be a price increase of at least 10% to have that kitchen remodel or that bathroom remodel completed.
What about the homeowner that decides he wants to do the work himself. Let's say the house has lead but he never tests for it. What happens if one of his children invites a friend over to spend the night? While the friend is there the homeowner is working on his project. After his son's friend goes home he starts to feel sick. They test his blood and find lead poisoning in his system. Do you think the little boys parents are going to be comforted by the fact that the EPA rule didn't apply to the homeowner? More than likely the homeowner will be sued for endangering the life of a child.
The bottom line is if it was built before 1978 check for lead. If lead is present have it renovated professionally by a firm with a RRP certification.
# # #