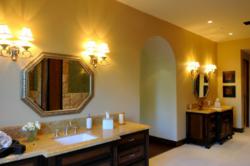 Having built so many houses in Southern California, we make it a priority to know what it is that our clients demand, and help them make the best decisions to get the most for their budget, LA Build Corp
Los Angeles, California (PRWEB) July 20, 2012
Given the housing market homeowners wonders, "if it worth the money to remodel or add a bathroom?" The answer is, "probably." Home renovation and home remodeling is a $150 billion industry. Savvy homeowners and home investors are finding value in home improvement projects and renovations.
Given the lagging economy home renovation may make more sense than ever.
The first thing to keep in mind is the most important reason to renovate a bathroom, and if the structural integrity of a home is being undermined or damaged by excessive water, mold or moisture. These damages not only will lower the value and salability of a home but it is also hazardous to the health of the homeowner. Mold and residue built up behind loos tiles, or leakage of water into walls from old or damage pips can cause asthma and other respiratory diseases and allergies.
Another reason for bathroom remodeling is increasing functionality and adjusting a home to a growing family's needs. Is there a new member on the way? If so, is this a new life partner moving in or a baby?
Yes, that new life partner can enjoy his or her own sink in the bathroom; why not eliminate the morning drama when getting ready to leave the house! With his and hers style vanity, and added lighting, even the rushed mornings can be pleasant and no one has to feel rushed or in the way.
With a new baby on the way, there are many other areas beside the fireplace and the sharp corners that need to be baby-proofed. Is the exciting bathtub safe and easy to give the little one a bath? Is there sufficient storage and countertop area to put away all the bells and whistles for the baby, and get the baby changed and bundled up?
Or are you simply looking to take on a bathroom remodeling project to add a spa like master-bath to your already perfect home?
In either one of these cases, the first place to start with is the budget for bathroom remodeling!
According to Remodeling Magazine's Cost vs. Value report the national average cost for an upscale bathroom remodeling is roughly $26,052, but how much a homeowner really spends will fluctuate based of the area.
Here is what to consider when setting a budget for bathroom remodeling in Los Angeles:

Debt-to-Income (DTI), this ratio helps to know if a homeowner can afford the additional debt of a bathroom remodeling project, if the project is being financed, the highest this number should be is 45%.
The number of years the house is gong to be kept. This is important to know says Ami president of LA Build Corp. "if you are planning to stay in your home for more than five years, then it's important to set a budget that will bring you and your family the most pleasure, in this case your bathroom remodeling should meet all the needs and possible changes in your families dynamic. But if you are moving within the next five years, then staying within a smaller budget and a bathroom remodeling plan that will be more appealing to more homebuyers should be the goal."
Is this a guest bathroom or a master-bath ? How many people will be sharing this bathroom?
Choosing Mr. Right!
After a reasonable budget is set and the reason for bathroom remodeling is established, it's time to choose the right general contractor in Los Angeles. This is the part many homeowners don't take into account when budgeting. Depending on the depth of the work to be done, the labor and professional work, this accounts for up to one-third of the bathroom remodeling cost in Los Angeles.
Setting up an initial consultations and interviewing the potential home remodeling contractors and asking for referrals is the best way to start a bathroom remodeling plan, says Ami. He adds: "how to know which contractor is the right one? The contractor that asks questions and tries to understand the needs and plans and does not just make promises in response to your questions and concerns."
It is also best to find a construction company or home remodeling contractor that does not out source any part of the work.
LA Build Corp has a group of professional bathroom remodeling contractors working closely with home designers and experienced home remodeling project managers, which ensures staying on schedule and budget, and avoiding miscommunications that would only create stress and extra coast to the homeowner.
Another great tool available to homeowners to choose the right home remodeling contractor in Los Angeles is through the "BBB", Better Business Bureau. BBB rates businesses based on many different factors, LA Build Corp has received an A rating for this two main reasons: 1-No complaints filed with BBB, 2-BBB has sufficient background information on this business.
LA Build Corp offers Quality and Dependability on Every Home Remodeling Project.
To get more information on bathroom remodeling designs, and to get a free consultation and estimate, Call 877- 628-5292.
Remember to ask about the Free Vanity offer with bathroom remodeling projects.
Call 877- 628-5292
or visit http://labuildcorp.com/
http://tusana.net/