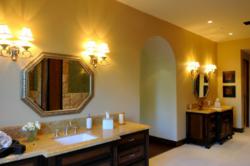 Home remodeling without a good plan and budget in place can work if it's linked to a limitless budget otherwise its just sending money down the drain.
Los Angeles, California (PRWEB) August 01, 2012
It's easy to look through home remodeling magazines or watch HGTV and fantasize about a perfect bathroom. But where to start? "The best place to start your bathroom remodeling is in your bathroom, stand by the entrance with a notepad and start a check list," says Ami, president of LA Build Corp. "Write down everything about your bathroom that bothers you, is it the out dated tiles? Low-pressure showerhead? Or lack of storage? Then make a list of things you wish to have in your bathroom."
It's easy to spend $25,000 or more on a bathroom remodeling project if money is not an object, but if it is then here are a few points to look into and take into consideration.

DIY or a remodeling contractor?
DIY is certainly a cheaper way of doing bathroom remodeling if a homeowner is handy and familiar with pluming, laying tiles, and can obtain the proper permits. If not it's wise to interview at least three general contractors and get cost and time frame estimates. (Top 10 DIY mistakes)
To keep this cost at minimum for bathroom remodeling, it's best to stay with the original bathroom floor plan. The more technical work like moving the pluming and electrical outlets involved with bathroom remodeling, the higher the cost of labor would be. But one thing to keep in mind is that regardless of the quality of the material used and the size of the bathroom, if a good craftsmanship is not utilized, the value of bathroom remodeling project can sorely decline.
One of the major costs involved with bathroom renovation is moving and replacing the fixtures like the tub and the toilet. This is another area that having a skilled general contractor or bathroom remodeling expert shows to be beneficial. An experienced general contractor will be able to plan out a design that can either work around the existing layout, and has the experience to know where to save money without sacrificing quality.
This is another area that using the right bathroom remodeling contractor or a general contractor is proven to be beneficial, as the tiles cover the most square footage and have the highest visual impact on the whole remodeling and bathroom design. General contractors usually have the ability to buy fixtures and tiles at wholesale price.
What Too Keep And What To Cut?!
This is where the original list comes in very handy, after choosing a general contractor and coming up with the floor plan, a design and the proper budget.
Now it's time to go down the list and decide what can fit within the budget or what needs to be cut out. Little luxuries adding unnecessary cost that would be nice to have but aren't essential to the room's functionality like a towel warmer or a steam shower. There are also amenities that can be added back at a later time, but it's important that the bathroom remodeling contractor is aware of them and has the ability to create the option for adding those at a later time.
How To Pay?
There are different ways to pay the bill for a bathroom remodeling project, a home equity loan is one of the more popular methods since it can be tax deductible. Other ways are refinancing, FHA loans, no-equity loans, personal loans, or borrowing against life insurance policies, or even better personal savings or an account that has been set up and funds put away for the purpose of remodeling.
Whatever the type of financing, shopping around is even more important here to get the lowest interest rate possible. Even if the project is getting paid for in cash, looking for a low rate financing options can be smart, how so? If putting that cash towards a debt with much higher interest rate, or a high yielding investment opportunity, can make more financial sense.
Staying On Budget,
Once the financing of the bathroom renovation has been established and a set amount is available for the project, it's wise to revisit the plan and the bathroom design to trim the list and make sure there are enough cushion for "what if" situations that might come up. Never tuck away the planed budget, revisiting it through out the remodeling process and comparing the actual spending against the plan can help with adding the extras or cutting them back and saves everyone from a last minute surprises and unnecessary stress.
Starting a remodeling project without a good plan and budget in place can work if it's linked to a limitless budget, otherwise its just sending money down the drain. Expert contractors and bathroom designers help homeowners get the most out of their bathroom remodeling budget.
Contact LA Build Corp at 877- 628-5292 for a free estimate and take advantage of free bathroom vanity with a full bathroom renovation.
http://labuildcorp.com/
877- 628-5292
http://tusana.net/