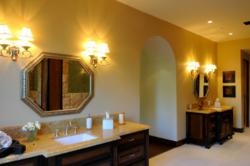 Having built so many houses in Southern California, we make it a priority to know what it is that our clients demand, and help them make the best decisions to get the most for their budget, LA Build Corp
Los Angeles, California (PRWEB) August 30, 2012
Remodeling little rooms like bathrooms can cost a lot. The averages for a full bathroom renovations as calculated by R.S. Means, a construction-costs estimating company, for different regions of the country: South, $7,771; Midwest, $8,989; West $9,458; East $9,500.
These amounts might exceed a set budget but don't despair. Redoing a bathroom can work for a lot less. By scaling back on some indulgences, taking on some of the work, it's easily possible to undercut those figures considerably. But when it's done right the results look as if they spent a lot more.
Who wouldn't want to relax and unwind in a gorgeous bathroom and enjoy a long bath in a spa like master bath? But is spending nearly $10,000 on a bathroom remodeling project an option for many people in the current economic climate?
It is true that money spent on a bathroom remodeling can be money well spent; many experts say that bathroom renovations generally return between 80 and 90 percent of their cost when a home is resold. But planning properly to maximize return on investment (ROI) is essential.
As a side note, if a home has more than two bedrooms and only one bathroom finding a way to add an additional full or half bath will dramatically increase the resale value; with the additional bathroom homeowners can expect an even higher ROI of 80 to 90 percent.
The main reason both the Kitchen and Bathroom have a high ROI, is that most buying decisions (including home buying) are emotion based. Almost every other room besides bathrooms and kitchens are easily transformed with a fresh paint or other simple touch ups. But When homebuyers walk into a home that has a run down or outdated kitchen or bathroom designs, given the technical and more complicated nature of these rooms, all they think of is the time, money, and headaches they will need to invest to get the room up to their standards. On the other hand when homebuyers walk into a home with fresh kitchen renovations and remodeled bathroom it can get them very enthusiastic. Buyers can afford to spend a little more on the purchase price of the home knowing that the kitchen or bathroom remodeling is already done and they don't need to spend their time and money on these rooms.
Inexpensive Bathroom Remodel Tips
The trick to keeping a bathroom remodeling on low budget is to leave all the major plumbing fixtures in their existing spot. This doesn't mean putting up with the unpleasant sink, but this is merely to avoid costly plumbing costs of moving pipes, tubs and toilets. If these fixtures really need to be moved around, then talking with a bathroom remodeling contractor can help to figure out the most cost efficient way of doing so.
Bathroom Remodeling and Vanity;
The bathroom vanity area is a good place to start with, as this is the most visible part of any bathroom. A unique bathroom vanity with a rich furniture look or a contemporary masterpiece can make the bathroom look and feel elegant and expensive. If the existing vanity is sturdy and in good condition, consider painting or staining the exterior can be a money saving trick. Otherwise, either shop around at home improvement stores, most times the bathroom remodeling contractor can buy vanities and other product at wholesale prices and can pass on those savings to their clients. Adding a marble or granite countertop, a crisp white bowl and a new faucet adds more to the look and fresh look of the bathroom.
Bathroom Remodeling and Bathtub;
The next stop is the bathtub. Re-glazing an easy way to give the existing bathtub a fresh new look. This process needs to be done by a general contractor because of the heavy chemicals involved and it takes about four hours. For about $350, the contractor can spray a new surface on top of the old tub and any surrounding tile. To top this off a new tub filler and exciting showerhead can transform that area of the room look brand new. Otherwise there are inexpensive options to replace the existing bathtub with a new one or turn the area to a tiled stand up shower.
Bathroom Remodeling Finishing Touches;
Love is in the details, fresh towels and a vibrant shower curtains can tie everything together. Top it off with a fresh coat of paint in a bright blue, yellow or sage color for a spa look or whites and deeper grays for a contemporary feel.
With a little creativity and the right remodeling contractor, any bathroom could be transformed into a designer's showcase.
LA Build Corp offers Quality and Dependability on Every Home Remodeling Project.
To get more information on bathroom remodeling designs, and to get a free consultation and estimate, Call 877-628-5292.
Remember to ask about the Free Vanity offer with bathroom remodeling projects.
Call 877-628-5292.
or visit http://labuildcorp.com/
http://tusana.net/