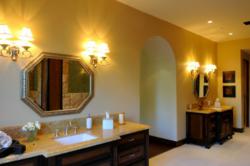 Remodeling your bathroom should make life easier: from luxuriating in a home bath spa to adding half-bath convenience to a bedroom, we will remodel your bathroom while ensuring it meets your needs now and in the future. - LA BUILD
Los Angeles, California (PRWEB) September 06, 2012
Bathroom Remodeling is not like doing just any home remodeling project. Why may one ask? ... Bathroom remodeling can improve the sanitation of a house and prevent mold. Therefore, a Los Angeles bathroom remodeling contractor cannot only make a house look more beautiful (thus increasing its resale value), but also more importantly it can have an impact on a family's health and wellbeing. For example, toilets, showers, tubs, and sinks that have not been replaced in years tend to clog the plumbing in a house, causing potentially harmful mold to grow and spread inside all of the walls of the entire home. Homeowners would then be obligated to spend thousands of dollars alone on plumbers, construction crews, and water bills. But the beauty of bathroom remodeling is that it can prevent such things from happening and not only add to the beauty of a home and it's value, but also end up saving a lot more money. For instance, fixing or replacing an old lighting system in a house with one that works to conserve energy can save a lot of money on monthly electricity bills. When a bathroom could use some improvement, it would be a good idea to find a reliable Los Angeles bathroom remodeling contractor that can work within a fixed budget and a set time to save the homeowner money, time, and stress. "I understand that finding a reliable Bathroom contractor in Los Angeles can be tricky, I suggest that the homeowners do some research on bathroom remodeling costs and before doing the actual bathroom remodeling meet with a few general contractors and interview them to make sure they pick the right man for the job." Says Ami, the president of LA Build Corp.
Here are some popular bathroom design ideas:

Transitional Style Bathrooms
The Transitional Style Bathroom is a new and innovative approach to bathroom remodeling. It allows for some of the older elements of the bathroom to stay intact while updating the rest of the room. This is a great idea for homeowners that wish to preserve a little history of their home, and in bathrooms this can be anything from antique tiles to lighting fixtures. LA Build Corp's design team will work one on one with the homeowner to come up with a great design that can blend old and new to create an amazing look. Updates can include installing a modern bathtub and shower, as well as a lovely skylight. LA Build Corp's bathroom design team will customize a plan that allows for an amazing transitional look.
There are many great looks when it comes to modern bathroom remodeling Los Angeles. LA Build Corp can create a stylish look with crisp black and white tiles and an open shower, and they can also create a modern spa-like atmosphere, complete with waterfall taps and an oversized whirlpool tub. Essentially, it is entirely up to the customer as far as design and vision goes, and LA Build Corp's professional design team will work one on one with their clients to ensure that their vision is materialized.
The Art-Deco style bathroom is a lot of fun. Considering the fact that many Los Angeles homes were built in the 1940's and 1950's, this style allows the homeowner to keep a little of the history of the home in tact while adding a modern spin. Pink and black tiles on the floor and shower wall are popular colors of the era, and 1950's style faucets add the perfect touch of nostalgia. LA Build Corp's professional design team can create a plan that allows the homeowner to obtain a retro look in today's modern world.
When it comes to bathroom remodeling in Los Angeles, style and elegance are just as important as functionality and durability. LA Build Corp is the number one choice of Southern Californians in bathroom additions and bathroom remodeling in Los Angeles.
Contact LA Build Corp for a FREE consultation on your bathroom remodeling project in Los Angeles and surrounding areas to learn more about their extended special for the summer, a FREE bathroom vanity with every bathroom remodeling Los Angeles.
Call 877-628-5292.
or visit http://labuildcorp.com/