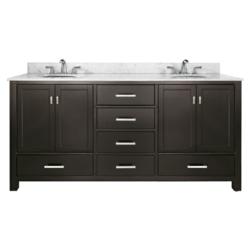 Hopewell Junction, New York (PRWEB) September 30, 2012
BathroomVanitiesForLess.com has re-designed their previous website and has introduced a fun and easy way of shopping for bathroom vanities! This new website allows buyers to customize their search by narrowing down certain categories making it easier to find exactly what you are looking for. You can search through a specific size, color, price, or style. This new design offers better images which help the customer get a better visual of the product they are considering.
BathroomVanitiesforLess.com wants to give their customers a better shopping experience. According to customer feedback, shoppers were spending a lot of time trying to find their perfect vanity. BathroomVanitiesforLess.com wants to make sure their customers are satisfied and put in the research to come up with a website that they believe positively increases the shopping experience.
BathroomVanitiesForLess.com is one of TheRTAStore.com'sfamily of stores. TheRTAStore.comwas founded in 2009 and currently sells ready to assemble and pre-assembled kitchen cabinets. TheRTAStore.com has since expanded into bathroom vanities and is selling bothready to assemble and pre-assembled vanities. Bathroomvanitiesforless.com is steadily growing due to their excellent customer service and large variety of product.
TheRTAStore.com has been listed on the 2012 Internet Retailer Second 500 list for the second year in a row. Based on 2011 sales they were ranked 854 and in the Merchandising category, Housewares/Home furnishings, 268. BathroomVanitiesForLess.com is a subsidiary of TheRTAStore.com and is continually improving based on customer reviews and suggestions.
About TheRTAStore.com:
TheRTAStore.com is a family-owned and operated online retailer of RTA cabinets and pre-assembled kitchen cabinets.The company has built its reputation by providing great products and impeccable customer service.