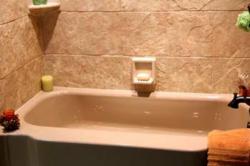 For a mid-range bathroom remodel that costs a homeowner around $16,500, the return in value of the home is over $10,000.
Forty Fort, PA (PRWEB) August 16, 2012
For homeowners who are looking to sell their house in the coming months or even many years from now, bathroom remodeling with ReBath Northeast the most affordable way to add value to your home with their Summer Sale. Customers can receive $600 off a tub to shower conversion or up $1000 off a walk-in tub or full bathroom remodel.
According to the 2011-2012 "Cost vs. Value" report by Remodeling Magazine, a mid-range bathroom renovation is one of the most valuable remodels a homeowner can do. Though costs for home renovations continue to climb, remodeling the bathroom will get the homeowner over 65 percent of their money back upon selling the home, according to Remodeling Magazine.
For a mid-range bathroom remodel that costs a homeowner around $16,500, the return in value of the home is over $10,000. Though this figure may seem like a loss, it is actually one of the better costs versus value remodels a homeowner can do, especially if the homeowner is going to be living in the home for a few years.
When thinking about any home renovations, considering the latest trends can be quite helpful. Two trends that will save the homeowner money and add value to the home are: using the existing floor plan and replacing smaller items to give the room a fresh look.
Unless a homeowner is committed to investing the time and money to moving plumbing and electrical in their home, using the existing layout of their bathroom is the most cost effective way to remodel.
Choosing ReBath Northeast for a bathroom remodel that uses the existing layout can help make that cost versus value number even better. With their one day remodel of the tub and shower area, ReBath Northeast is able to keep overhead costs low and they pass the savings on to their customers.
Whether you need to replace your current tub or shower, convert your bathtub to a shower or have a specialty item installed like a barrier-free shower or walk-in tub, ReBath Northeast can offer you a great price, as well as fast, efficient service.
ReBath Northeast's installers will take the tub or shower area down to the studs, replacing the damaged or moldy walls with new mold resistant wall board. Once they have the new walls in place, they will level out the tub or shower area and install their acrylic product. Next they will install the acrylic bathtub surround. Since ReBath Northeast's acrylic products are guaranteed for life, the value of the homeowner's bathroom is sure to go up.
If a homeowner wants to have more than just their bathtub or shower area remodeled, the latest trends suggest replacing outdate items like pedestal sinks, lights and the floor to give the room a more modern look.
ReBath Northeast offers the best brand names for the rest of the bathroom too. If the homeowners would like to replace their old pedestal sink with a more functional bathroom vanity, ReBath Northeast can find the perfect size and style to match their budget. With over 25 cabinet styles, by Aristokaft and over 60 vanity top choices, by The Onyx Collection, homeowners will find it easy to choose the right combination for their home.
Replacing an old linoleum bathroom floor with a neutrally colored high-quality vinyl or a ceramic tile floor can really make a bathroom look new. ReBath Northeast offer hundreds of floor styles in high-quality vinyl tile, vinyl sheet and vinyl plank by Armstrong floors. They also offer ceramic tile, by Avaire, that can be installed over an existing floor.
Installing new towel bars, grab bars and lighting is an inexpensive way for homeowners to make the bathroom more modern and updated. While ReBath Northeast will not simply replace the fixtures or lighting in a bathroom without first redoing the tub or shower, adding these small projects to the bigger bathroom remodel adds little cost for their customers. ReBath Northeast offers over 20 different types of lightning and can get new fixtures to match any faucet color.
ReBath Northeast can not only create the bathroom you have always wanted but a bathroom that will add value to your home. For more information, please call 1-800-BATHTUB or visit their website: rebathnortheast.com.
About ReBath Northeast
ReBath Northeast is a franchise of ReBath LLC, which sells patented DuraBath SSP™ acrylic products. ReBath Northeast is a bathroom remodeling company that specializes in the tub and shower area, installing tub and shower replacements, bathtub liners, tub to shower conversions, barrier-free showers and walk-in tubs in as little as one day. ReBath Northeast can also remodel the rest of the bathroom in as little as two days. The service areas are located throughout Eastern Pennsylvania including the towns of Reading, Athens, Quakertown, Dallas, Montgomery, Greentown, Laporte, Gouldsboro, Beaver Meadows, Malvern, Stillwater, Broadheadsville, King of Prussia, Ashland, Montrose, Factoryville, Darby, Jermyn, Allentown, Danville, Bangor, Salem and Wilsonville. For more information about the services ReBath Northeast offers, visit http://www.rebathnortheast.com.
Aimee Fritzges
ReBath Northeast
934 Wyoming Ave.
Forty Fort, PA 18704
1-800-BATHTUB
(570) 283-3005
http://www.rebathnortheast.com
afritzges(at)rebathnortheast(dot)com