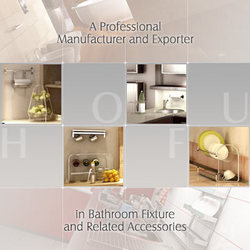 We put great emphasis on accommodating our customer's needs by adopting any ideas they may have, or manufacturing any specific products that they require
(PRWEB) August 29, 2007
Wholesalers & Retailers' Best Manufacturer
Home improvement wholesalers or retailers take note. Any company seeking a qualified manufacturer making high performance bathroom fixtures and accessories should look to HoFu.
Chin Ho Fu is well experienced with largest home improvement wholesalers and retailers and is your best manufacturer.
Smarter Design for Higher Performance!
With smarter design for higher performance, the bathroom fixture is no longer just a fixture. It is more likely an art deco piece and makes relaxation more enjoyable. For instance, the major production chain -- toilet seat -- can be made in several materials such as molded wood, Oak, Pine, MDF, PP, Glass fiber and Urea. With its great thermal transfer printing and eco painting, the pattern is stable and green. The design is not only for visual attraction but also considers a long life.
A slow flip down system Toilet Seat is ideal for potty training and elder care. This dazzling 3 in 1 design is especially for poly and wooden materials, as well as custom made toilet sets.
With more than 15 years dedication to providing customers with quality designer products for the bathroom fixtures and accessories, Chin Ho Fu Corp. is now the leading manufacturer in the field. It has already established production bases and marketing channels under its well know brand Ho Fu in Japan and Europe. HoFu's only mission is marking the new standard for what customers can expect from bathroom and kitchen fixtures. Its R&D team believes new bathroom and kitchen products should focus on making customers' lives better and easier. Today, CHF is one of the bathroom fixture and accessories suppliers for European largest home improvement retailers, such as B&Q and Brico Depot of Kingfisher Group.
Chin Ho Fu Co., Ltd. (CHF), which began as a small scale manufacturer little more than a decade ago, has quickly become a prosperous supplier in the field. In the early stages, it manufactured plastic injection bathroom products, such as bath tub, toilet seat, mirror cabinet and bathroom accessories. After 15 years dedication in the field, the company is now the recognized leader for manufacturing bathroom fixtures. It owns two professional molding factories and includes several production lines under standard process norms. Moreover, CHF's outstanding subsidiary printer controls the quality of printing and packing, so that all products are finished with fine looking color-print packages.
Product development has been an important aspect of the company's growth. CHF is always seeking the best ways to introduce various new technologies to its products. To stand out from thousands of competitors in the market, CHF started its OEM and ODM manufacturing services a few years ago. With its prominent design team, which has a branch in Europe, it is able to sniff out new fashions. "We put great emphasis on accommodating our customer's needs by adopting any ideas they may have, or manufacturing any specific products that they require," Sales Manager Jean Chen said proudly.
Besides being trusted for product reliability, the company also promotes products under its well know brand HoFu in the bathroom fixture and accessories line, such as, towel stand, towel rack, WC stand, mirror, mirror cabinet, toilet seats, wire wares and more. A few years ago, CHF started promoting its well know brand HoFu to European largest home improvement retailers. Now it is a remarkable brand for Kingfisher, which is the top 3 decoration and building material retail group in the world. And this could be just the beginning of a booming market, Chen indicated her great ambition.
Want to know more about other products from Chin Ho Fu? Please visit the web sites below: http://www.allproducts.com/household/hofu | http://www.ho-fu.com
Get in touch with Chin Ho Fu for high performance, various patterns, durable quality and competitive prices. Inquire with specific needs and Chin Ho Fu could exceed expectations.
###