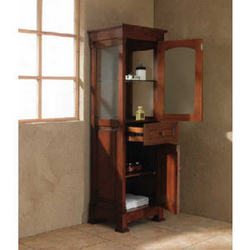 San Diego, CA (PRWEB) August 27, 2008
Premiere Vanities is happy to announce the expansion of their online bathroom furniture store to include antique, traditional, and modern style linen cabinets to match or complement the vanities offered on the site. These bathroom vanity cabinets are a space-saving and stylish response to the increasing demand for antique, traditional, and modern designs that are made for storage yet are aesthetically pleasing.
The new line of bathroom linen cabinets offered include styles made of oak and birch wood, in a variety of finishes to match any bathroom interior design. There are space saving wall mount cabinets to make the most of smaller bathrooms that need storage, and free standing linen cabinets that can add to the beautiful designer discount sink vanity you already own, or become the stylish centerpiece itself.
Every wooden bathroom linen cabinet offered by Premiere Vanities uses framed type construction, which enhances stability and provides durability for many years to come. The kiln-dried hardwood used for cabinet construction is properly dried to prevent warping and cracking, as well as a sealed finish to prevent peeling and fading in elevated humidity levels. This means that your bathroom furniture has been built to last for years and years to come, even in the humid conditions of your bathroom.
These chic and practical bathroom linen cabinets are a welcome and needed addition to Premiere Vanities' selection of beautiful bathroom furniture. On the Premiere Vanities website: premierevanities.com., customers can find the perfect single sink vanity, double sink bathroom vanity, vanity set, bedroom vanity, and now linen cabinet for their bathroom makeover projects. As the demand for various vanity cabinet and furniture designs increases, Premiere Vanities supports the idea that bathroom furniture specialists should meet it with equally practical and beautiful cabinets and vanities to match any home décor.
About Premiere Vanities:
Premiere Vanities is the leading online source and retail site for bathroom vanities, with a passion for making every bathroom a stylishly unique and beautiful room in every home. They offer a wide selection of single vanities, double vanities, vanity sets, bathroom cabinets, bathroom furniture and bedroom vanities. With furniture in antique, wood, traditional, and contemporary interior design styles, we are confident that our customers can find bathroom vanities, bedroom vanities, or bathroom linen cabinets that will be chic and beautiful additions to their homes. Premiere Vanities offers quality bathroom furniture at low prices, with free shipping in the continental U.S., and a great customer service experience.
###