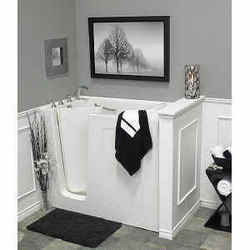 San Diego, CA (PRWEB) July 30, 2008
Simply Bathtubs is pleased to meet the special needs of handicapped and elderly persons with the release of specialized walk in bathtubs. Although these tubs have been designed to meet special needs, anyone can use them. When approaching the search for the perfect tub for a bathroom remodel, it's good to think ahead because this is not a purchase made everyday or even every few years for most people. Even if you don't need a walk in bathtub today, chances are that you will in several years. It's beneficial to our finances and our peace of mind to plan for the future and install a walk in bathtub as opposed to the traditional bathtub.
If you don't want to replace your old tub with a new walk in bathtub, you can also consider taking on a bathtub refinishing project to spruce up your old wash basin. In that case, you will need to do your homework, because when you put this much time and backbreaking labor into a home improvement project, you want to know what to expect. Bathtub refinishing can be a lengthy process with the sanding, dipping, glossing, etc. Another option for tackling your bathtub refinishing project is to buy an acrylic liner for your tub, which is not recommended. These liners simply mask or cover up the problems you had in the first place.
Aside from getting a bathtub liner to cover up the problem tub, you can choose to do yourself. Because bathtub refinishing can be such a long process, requires backbreaking work, and at the end of it so many find that if their bathtub needs a big refinishing job it's probably time to replace it anyway, Simply Bathtubs is happy to bring new bathtubs to the masses at low prices during these tough economic times.
Simplybathtubs.com. has a wide collection of classic bathtubs, claw foot tubs, whirlpool tubs, and walk in bathtubs. As the demand for practical and versatile bathtubs increases, the selection available by bathtub specialists should meet the needs of those who need a new traditional or walk in bathtub today and tomorrow.
About Simply Bathtubs:
Simply Bathtubs is the leading online source for everything bathtubs! They offer quality traditional bathtubs, walk in bathtubs, whirlpool bathtubs, and claw foot tubs for your bathroom remodel. Their bathtubs come in several different styles and sizes so that customers can find just the right bathtub for their space and unique interior design. If floor space is limited in a bathroom, then a corner bathtub or modern bathtub is a great solution, but if there is a lot of floor space and the bathtub is to be the centerpiece, then a claw foot bathtub or cast iron bathtub may work better. Simply Bathtubs offers quality bathtubs at low prices, with free shipping in the continental U.S., and a great customer service experience.
###