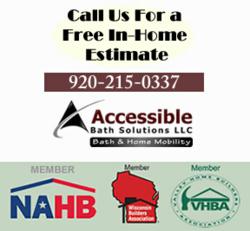 Our Certified Aging in Place Accessible Bathroom Remodeling Specialists Understand What it Takes to Design and Implement Attractive, Barrier-Free Living Environments.
Appleton, WI (PRWEB) October 24, 2012
Accessible Bath Solutions LLC is an accessible bathroom remodeling, Appleton based company, founded in 2010 after a family friend was severely injured in a snowmobile accident. After the accident left the man paralyzed from the chest down, he realized his home could not accommodate his recent limitations.
With the help of family and friends, along with Accessible Bath Solutions LLC owner, Ben Ritchie, the man's home was adapted and modified to fit his needs so he could continue to live in his home. After undergoing the rewarding experience of helping a friend in need, Ben Ritchie founded Accessible Bath Solutions LLC, a certified Aging-in-Place Specialist (CAPS), in an effort to help other disabled and elderly individuals stay safe in their homes.
With a background in the building trade, Ben Ritchie's years of plumbing experience allowed his plumbing service in Appleton to specialize in accessible bathroom remodel services such as walk-in bathtubs, accessible showers, tub cuts, roll under countertops and widened doorways to help an individual get around more freely. Other home updates can include modifying the height of toilets and counters, grab bars, transfer benches and wheelchair ramps.
Accessible Bath Solutions LLC recently announced the addition of the Simplicity Wheelchair Lift Ramp to its already diverse product portfolio. Owner Ben Ritchie stated, "We are excited to be able to offer yet another solution to provide individuals independence in and out of their homes. There is nothing else like this product on the market."
The idea for this unique wheelchair ramp originated in the garage at the home of Richard and Laurie Raab, whose daughter, Jackie, has been confined to a wheelchair since childhood. Born with cerebral palsy, Jackie often faced access issues. As a working adult and living at home, Jackie's independence was restricted by her inability to have safe access in and out of her home.
After much research for affordable, functional access equipment needed by Jackie, it was evident that nothing existed in the current market place that would allow her and individuals like her, to independently and safely enter and exit her home.
Richard visualized a four-by-eight foot sheet of plywood anchored at the door sill and a mechanism that would raise the opposite end up until the plywood was parallel to the door sill. Richard then partnered with Dennis Hase, a mechanical design engineering specialist, to develop this concept and bring this unique product to reality.
In June of 1995, the first prototype unit was completed. Jackie began using the unit that same year and continues to use the same unit today. With Jackie's day-to-day utilization of the lift, improvements were made to make the unit more user friendly and the second generation design was completed in 1998. This unit received the Wisconsin Governor's New Product Award that same year.
The lift ramp was test marketed at the 1998 Atlanta Medtrade Show and received outstanding dealer acceptance. The wooden wheelchair ramp leaves the user with an access tool that is ill designed and demonstrates poor functionality, while consuming valuable yard or storage space and offers no mechanical assistance to navigate.
"Our Certified Aging in Place Specialists understand what it takes to design and implement attractive, barrier-free living environments. The changes they make allow seniors and handicapped individuals to live comfortably and safely within their homes. Our designs remove mobility barriers and make the living space more attractive. One of the most rewarding parts of the job is helping individuals stay in their home rather than be moved to a special care facility," stated Ben Ritchie.
In addition to helping the disabled, Accessible Bath Solutions staff have been trained to meet the needs of people ages 50 and above. They diagnose the obstacles in the home and recommend home accessibility modifications that allow them to live freely and independently. Ben Ritchie added, "Accessible bath Solutions LLC stands behind its mission statement 100%. Our purpose is to find unique solutions to fit our customer's needs and make everyone we come in contact with feel they can trust us to do the job right."
For more information or a free, no-obligation consultation on accessible bathroom remodel ideas in Appleton surrounding areas, call Accessible Bath Solutions LLC at 920-215-0337 or visit http://accessiblebathsolutions.com to discover what this CAPS certified company can do for you or use the following contact information: ben@accessiblebathsolutions.com
Accessible Bath Solutions LLC
3431C N. French Road
Appleton, WI 54911