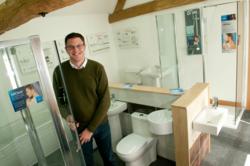 Bathroom2u is expanding their ranges of wet room kits and wet room screens.
(PRWEB UK) 19 October 2012
Leading bathroom and wetroom retailer Bathroom2u has increased the already wide range of wetroom products it sells, meaning that the customer now has even more choice.
The company now sells wet room kits with channel drains. Channel drains have a more elegant look and all drains sold by Bathroom2u are of extremely high quality.
Their Maxxus wetroom kits with channel drains are outstanding value for money. Maxxus is a leading retailer of wetroom products which is highly regarded by those who use it.
Wetroom kits sold at Bathroom2u, unlike kits sold by their competitors, contain everything you need to create a wetroom and are simple to use. Their new wetroom kits with channel decks only take one hour to assemble, meaning you don't have to spend hours fiddling about.
Bathroom2u has also added to its range of wet room screens with the high quality Lakes range. Lakes screens come in a variety of sizes and include the stylish Lakes Cannes Silver screens and the modern Lakes Andora/Rhodes Shower Panel.
Lakes are a leading manufacturer of wetroom and bathroom products, and bathroom2u are very pleased to be able to add the lakes screens to their selection.
Bathroom2u has an extremely high rate of customer satisfaction. Their page on Trustpilot is full of five star reviews, showing how greatly service is rated. Recent comments by customers include "B2U got it right- top marks", "Quality service, quality products and quality company" and "Highly recommended."
The company is committed to high quality products, including high quality wet rooms, and only stocks market leaders who constantly refine and innovate their products. This is why they continue to update their range of products.
One range Bathroom2u are constantly updating is their range of wet room flooring systems, which has expanded from 60 products to over 200 in the last six months with the means to expand it even further.
Just ring 01235 884104 to speak to one of Bathroom2u.com's helpful staff and find out more about their new wetroom products.