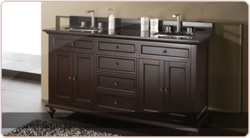 Fishkill, New York (PRWEB) November 10, 2011
TheRTAStore.com launches its third website amidst increasing demand from customers. BathroomVanitiesforLess.com offers hundreds of bathroom vanities.
Company CEO Tyler Ackerman says, "Our customers have come to know and trust TheRTAStore.comto have an excellent selection and great customer service. The next logical step for us was to begin offering even more products and taking care of more of our customers' needs by helping them find the perfect bathroom vanity."
On BathroomVanitiesforLess.com, customers can choose to search for vanities by width or other features, like double or single sinks. They can also look by finish, price or assembly. The site also offers additional accessories like linen cabinets or tank toppers.
One of the newest features added by TheRTAStore.com is a three-dimensional design, which allows customers to have a professional designer create their bathroom or kitchen. The new tool is available on both BathroomVanitiesforLess.com and TheRTAStore.com. The free service shows customers exactly the bathroom vanity or RTA cabinets will look like before they purchase. This allows them to make better choices and avoid any unsightly surprises on installation day.
TheRTAStore.com continues to expand its product lines on all three of its websites amidst glowing customer reviews and rapidly increasing demand. Earlier this year Internet Retailer magazine listed TheRTAStore.com on its "Second 500" list of the fastest growing online companies.
About TheRTAStore.com:
TheRTAStore.com is a family-owned and operated online retailer of ready-to-assemble and pre-assembled black kitchen cabinets, white kitchen cabinets and numerous other finishes in wood kitchen cabinets.The company sells products from reputable companies customers know and trust.
###