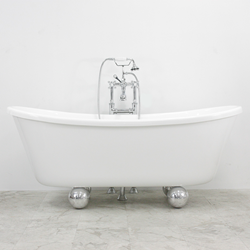 (PRWEB) December 31, 2014
The Tub Studio, a sister company of Baths of Distinction offers a complete new styling on the more traditional shape vintage tubs this December. The style is most aptly described as transitional, but the look can equally be at home in the most contemporary setting.
This winter product launch marks one of many new tubs that The Tub Studio and Baths of Distinction have released this year. The artisans at Baths of Distinction have continued to revolutionize bath décor with new, exceptional designs.
To further enhance these radical changes in tub design, The Tub Studio has also produced several new styles of feet and pedestal bases for the innovative bathtub creations. The all new Duomo foot includes a polished aluminum round ball, which when combined with the new narrow tub lip, looks absolutely amazing. Additionally, The Tub Studio is offering their Florentine flat plate polished aluminum feet for a slightly Zen, minimalist feel.
These fresh styles combined with The Tub Studios' new vintage Medici cast iron feet and contemporary Da Vinci cast aluminum feet, are upping the bar for design in freestanding bathtubs. The owners note that careful consideration went into the pedestal version of the tubs, as each one is specifically designed to cater to integrated air jetting, a major plus for tub buyers who desire a little extra zest.
To complete the new range, The Tub Studio is offering a full collection of mirror finish polished aluminum skirted tubs. These aluminum bath tubs are simply beautiful and are also available with the popular integrated air jetting.
All Tub Studio products are available online at http://www.bathsofdistinction.com
About Baths of Distinction:
Baths of Distinction manufactures high-quality clawfoot and pedestal bath tubs, as well as unique finishes, for homeowners and builders. Baths of Distinction is an industry authority on the subject of vintage-inspired tubs and fixtures with experts who can bring your vision to life, whether it includes modern refinery or Victorian elegance.
To see what Baths of Distinction can do for you, visit http://www.BathsOfDistinction.com