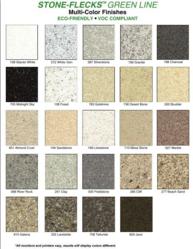 Combined with our unique bonding agents and protective finishes, Stone-Flecks allows you a full range of options in upgrading all kinds of surfaces at an economical price
San Francisco, CA (Vocus/PRWEB) April 07, 2011
Everyone who has recently remodeled a home knows that kitchens and bathrooms look stunning with granite. They also know how expensive they can be and how hard it can be to find a color that matches the rest of the room. Bay Area Coatings, a San Francisco resurfacing contractor, has the answer: Stone-Flecks, an acrylic polymer coating system that gives the look and feel of granite quickly and much less expensively.
"Combined with our unique bonding agents and protective finishes, Stone-Flecks allows you a full range of options in upgrading all kinds of surfaces at an economical price," said David Ramos of Bay Area Coatings.
Bay Area Coatings says the effect of Stone-Flecks is achieved with a proprietary technology in which colored flecks are sealed in during manufacture and released upon a spraying application, which rapidly creates a finished look. It can also be applied in a matter of hours, saving a significant amount of time for those looking at home and kitchen remodeling in the San Francisco Bay Area.
According to Bay Area faux granite experts at Bay Area Coatings, as much as 70% in savings can be accumulated when individuals choose to use Stone-Flecks instead of full-blown remodeling and replacement. In a troubling economy, Stone-Flecks is a perfect and affordable alternative to kitchen and bathroom remodeling.
In addition to saving money, Stone-Flecks offers much more flexible in terms of color. Twenty-four hues are available and include everything from Midnight Sky to Almond Crust to Fieldstone to Telluride. All colors are available in a natural, matte, semi-gloss, or full gloss finish, depending on the type of clear coat selected and the actual surface being refinished.
Stone-Flecks can also be used for a wide range of surfaces, such as countertops, cabinets, tubs, sinks, bathroom dividers, floors, and can even be used to seal walls against damage from moisture.
For more information about Stone-Flecks or any of Bay Area Coatings' products and services, call them at (415) 230-0734 or view them on the web at http://www.sfbayareacoatings.com.
About Bay Area Coatings
Bay Area Coatings is a San Francisco bathtub refinishing contractor that specializes in tub refinishing and ceramic tile resurfacing in San Francisco. Bay Area Coatings is a licensed, bonded and insured contractor, registered with the State of California. Their bathtub, sink and countertop refinishing service carries a 5-year warranty on materials and labor. In addition to individual residential projects, Bay Area COatings also services multiple units such as apartments and hotels. They have served the San Francisco Bay Area since 1990.
###