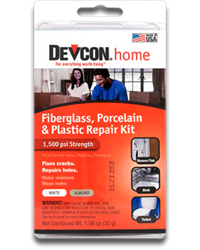 Fiberglass, Porcelain & Plastic Repair Kit is perfect for repairing small holes and cracks on porcelain, fiberglass, plastic and ceramic materials. Use it to repair nicks in toilet, sink, tile surrounds, spa tubs, figurines, bathtubs, shower stalls.
Issaquah, WA (PRWEB) August 25, 2014
TheHardwareCity.com is consistently expanding its inventory to include the most innovative and useful home improvement products. This month, the new Devcon Epoxy Bathtub Repair Kit has been included in the hardware store's online catalog.
The new bathtub repair kit permanently mendssmall holes and cracks in bathtubs, shower stalls, sinks, and surrounds. Holes up to one inch in diameter and tears up to five inches in length are able to be repaired with the new product available at TheHardwareCity.com. It works on many common bathroom fixture materials including plastic, fiberglass, enamel, and ceramic.
The Devcon Epoxy Bathtub Repair Kit originally mixes to a white color but can be adjusted to match. The package comes with a pigment packet that allows for color matching to almond or bisque fixtures or any color in between.
Customers of TheHardwareCity.com can have the new product delivered to them easily through the online store without paying shipping fees. Also, the bathtub repair kit is being offered at a price that is 43% off of retail. With such a great deal and the ease of shopping from home, there is no need to search through a hardware store for necessary home repair materials.
About TheHardwareCity.com:
Founded in 2007, TheHardwareCity.com has become one of the largest online hardware stores. The extensive catalog includes popular and necessary items in every home improvement department, including paint and sundries, building supplies, plumbing, electrical, home hardware, lawn and garden, bath accessories, electrical, and more. The company prides itself in offering top customer service. Customers with questions concerning any product can participate in live online chat with the tool and product experts every weekday. To see all of the products available, visit http://www.thehardwarecity.com.