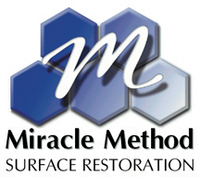 Refinishing is like creating your own carbon credits and is a choice more and more concerned consumers are making
Colorado Springs, CO (PRWEB) April 10, 2009
No matter what shape the economy is in, homeowners are still looking for ways to update their homes. Perhaps it's the influence of makeover programs on the HGTV and DIY networks, but there appears to be a pent-up demand for an affordable alternative to traditional removal and replacement remodeling.
Recognizing that people are looking for ways to stretch their home improvement dollars, Miracle Method President, Chuck Pistor, has directed the production of new ads with an emphasis on value and savings. "Our new ads now have coupons and we're even offering discounts to existing customers on future work." The company is seeing an excellent response as value-conscious homeowners are turning to surface refinishing to upgrade bathroom and kitchen surfaces.
The company is using coupon ads in magazines, direct mail, newspaper inserts and advertorials and radio to get its new value message across. Their target is homeowners who are tired of the dated look of their bathrooms, have damaged fixtures and who would like a stone look on their countertops, but can't afford granite.
"We kicked off our new ads early into home show season," says Pistor. Franchisees are reporting good response along with better than expected attendance and traffic at their booths." Spring home show success is an indicator of what the year will bring. "Surface refinishing already offers savings up to 75 percent over the cost of tearing out a bathtub and tile surround and our discounts adds additional incentive."
Based in Colorado Springs, CO, Miracle Method's 120 offices offer repairs and refinishing of porcelain, ceramic tile, cultured marble, fiberglass, Corian™, acrylic and laminate surfaces in bathrooms and kitchens. The company's customers include homeowners, property managers, colleges, universities and hotel operators.
Reglazing, refinishing and surface restoration all refer to the process of restoring an existing kitchen and bathroom surfaces. There have been tremendous advancements in the coatings and process over Miracle Method's 30-plus year history. Miracle Method's non-acid bonding agent, high tech coatings and colorful stone finishes like Miracle Method's Natural Accents make refinishing a better choice than ever before.
There is a "GREEN" side to refinishing as well. Since the homeowner is effectively recycling existing surfaces, it reduces the burden on landfills and helps reduce pollution created by manufacturing and transporting new fixtures. "Refinishing is like creating your own carbon credits and is a choice more and more concerned consumers are making," says Pistor.
The company's website, http://www.miraclemethod.com offers a great deal of information about the refinishing process and advice to those interested in exploring the restoration option. There is also a photo gallery of before and after photos that demonstrate just how good refinishing can be.
Miracle Method's 120 locations offer a five-year guarantee against peeling or failure of adhesion. A refinished surface should last 15 to 20 years using the same care and maintenance recommended by new tub manufacturers. Call (888) 271-7690 to be connected to the nearest Miracle Method office.
###