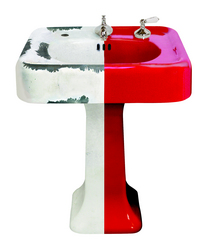 We think informing people that they now have a Green Alternative to remodeling will be good for our business and very good for the environment.
Colorado Springs, CO (PRWEB) June 27, 2008
According to the National Association of Remodeling Industry (NARI), new home building generates between 3 and 5 lbs. of construction waste per square foot of home. By contrast a remodeling project can generate between 70 and 115 lbs. of waste per square foot.
Miracle Method, the nation's largest surface restoration company, has begun a new advertising campaign to promote the virtues of refinishing as a Green Remodeling Alternative to traditional removal and replacement. "People need to understand that throwing out their old bathroom fixtures, tile walls, and kitchen countertops are just adding to landfills," says Chuck Pistor, President of Miracle Method.
The Green Remodeling Alternative campaign is designed to educate homeowners that their porcelain, steel, and even fiberglass bathtubs do not need to be replaced just because they are no longer easy to clean or because they are the wrong color. Miracle Method can restore these surfaces, repair chips, change colors, and make perfectly functional bathtubs, vanities and countertops look and feel like new. New truck signage and all sales collateral material will feature a Green Remodeling Alternative logo.
"Miracle Method's bathtub refinishing process works equally well on porcelain, tile, cultured marble, fiberglass, and acrylic surfaces," according to Pistor. Miracle Method allows homeowners to extend the service life of their existing fixtures and also to avoid the expense and mess of traditional removal and replacement remodeling. "The savings to homeowners can be as high as 75%," added Pistor.
With growing concerns about global warming, greenhouse gases, and ozone levels, surface restoration makes more sense than ever before. Not only does refinishing reduce the burden on landfills, it also helps reduce pollution created by manufacturing and transporting of new fixtures. "Refinishing is like creating your own carbon credits and is a choice more and more concerned consumers are making," said Pistor.
Professional bathtub refinishing by Miracle Method is a proven restoration process that can add fifteen to twenty years of life to a bathtub. Resurfacing not only saves homeowners time and money, but the hassle and mess of remodeling. Miracle Method's process is unique in that it is the only system that does not use toxic etching acids and has a 29-year proven track record. "It's a shame to replace a quality cast iron bathtub with a new steel bathtub. Cast iron porcelain bathtubs hold heat better and most tubs are deeper and more comfortable than today's bathtubs. Refinishing is also more cost effective than plastic bathtub liners," adds Pistor.
Miracle Method's most recent product innovation has homeowners resurfacing rather than tearing out and replacing kitchen countertops and bathroom vanities with the company's Natural Accents™ stone look finish. It's affordable, extremely durable and available in a variety of colors, hues and textures; and, it will provide a solid surface look at a fraction of the cost and time. Natural Accents can be applied to tile, laminate, cultured marble and Corian™. Unlike expensive Corian, granite or marble surfaces, Miracle Method's stone finish can be quickly and economically repaired in the event of a chip or other damage.
"With a bit of planning, a homeowner should be able to get the makeover look they want by refinishing instead of replacing. They'll not only save themselves money, but contribute to a better environment," says Pistor. "We think informing people that they now have a Green Alternative to remodeling will be good for our business and very good for the environment."
Miracle Method's 120 locations offer a five-year guarantee against peeling or failure of adhesion. A refinished surface should last 15 to 20 years using the same care and maintenance recommended by new tub manufacturers. To see pictures of refinished fixtures and to learn more about bath and kitchen remodeling, visit Miracle Method's web site at http://www.miraclemethod.com or call (888) 271-7690.
###