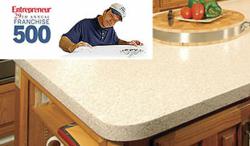 When we first opened we had just one technician and I handled the phones, sales, and all administrative work. Today we have five Technicians and a full-time administrator, with this kind of growth we felt confident purchasing an additional territory
Medford, MA (PRWEB) May 17, 2012
Miracle Method of Boston a trade name of Stonehouse Creek has announced it has purchased an additional Massachusetts territory from the franchisor. The franchise location is northern part of Metrowest and will include towns from Concord, MA to Lowell, MA.
Miracle Method US Corp is a franchised bathtub refinishing company. The franchise and proprietary refinishing system was established in 1978. Comprised of over 100 franchises nationwide they make up the largest network of bathtub refinishers.
Owner Ted Fisher has been a Miracle Method owner since 2006. "When we first opened we had just one technician and I handled the phones, sales, and all administrative work. Today we have five Technicians and a full-time administrator, with this kind of growth we felt confident purchasing an additional territory" said Ted.
The decision to purchase this territory and grow the company was a calculated one. Miracle Method of Boston has been servicing the Metrowest area since 2004. The demographics are very similar to the area around Needham and Newton. Combine that with their expediential growth during a recession, they are confident about this decision to bring our bathtub refinishing services to a larger area.
The decision comes with a significant investment, especially for a small local service company. The average cost to open a new area is $85k. Not just are there direct franchisee costs but also the expense of hiring additional Technicians. Each Technician must attend and complete a training and certification program. A truck fully stocked with tools and equipment is needed for each Technician. Lastly their marketing and advertising budget will increase to reach this new area and to spread the word about their bathtub refinishing services.
Company Info: Miracle Method refinishes bathtubs, tiles & grout, fiberglass showers and countertops. Their system is a cost effective alternative to replacement. The process includes many preparatory steps followed by the application of Miracle Method's own proprietary bonding agent and then spraying many layers of a high performance acrylic urethane coating. For more information contact us at 888-271-7690 or visit http://www.miraclemethod.com/bathtub-refinishing-boston-1.php