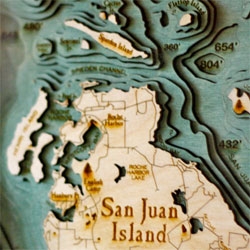 celebrate your favorite bodies of water in exquisite detail... Uncrate
Bellingham, WA (PRWEB) January 09, 2013
Below the Boat is making waves by highlighting what lies beneath them. These unique works of art start as bathymetric charts (the underwater equivalent of a topographic map), the contours of which are laser-cut into sheets of Baltic birch and glued together to create a powerful visual depth. Select layers are hand-colored blue to visually separate the land from water. Major byways are etched into the land providing additional detail.
The artwork sold by the month-old Below the Boat has become an instant hit amongst those who appreciate North America's most-alluring lakes and coastlines. Launched quietly on December 9th, the small husband-and-wife run storefront is featured on popular sites Uncrate, Colossal,Kottke.org, NOTCOT, The Fancy, and Cool Hunting with its artwork being described as "gorgeous", "DOPE." and, most eloquently, "a great way to honor and explore the mysteries of the sea floor lurking just beyond your favorite strip of sand."
Below the Boat's founders describe their artwork as "a door into another world… one which, quite literally, lies below the boat." When asked about the impact of the works, they say that the charts "lift the surface of the water back like a veil... as though the world suddenly has taken on a fourth dimension.
The 26 "wood charts" are striking reliefs of popular bays, islands, and lakes found along the east coast, west coast, and interior regions of North America. They're laser-cut, hand assembled, pre-framed works of art that they ship for free anywhere in the United States (they'll ship to Canada for a small fee).
Priced between $138-298, these shockingly accessible pieces of locally focused art have quickly become a popular way to celebrate a world that most have overlooked.
Working in partnership with a team of Michigan cartographers, the duo plans to expand their selection as they go, accepting requests for future pieces through their website and providing regular updates via their Facebook page and Twitter feed (@BelowTheBoat).