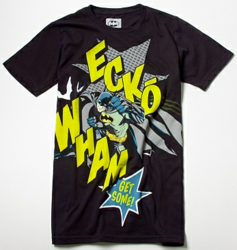 New York, NY (PRWEB) August 21, 2012
The collection features designs that combine the breadth of the Batman brand with Ecko's signature aesthetic and trendy design in t-shirt wear with bold images and bright colors. From the pages of DC Comics comes this colorful new comic book mythology artwork that has inspired this collection, including the classic "Batman Wham" t-shirt graphic.
The collection is available now for a limited time at http://www.shopecko.com.
About Ecko Unltd.
With an uninhibited pulse on emerging trends and talent, Ecko Unlimited is a lifestyle brand in a class of its own with original collaborations with Star Wars, Batman, street artists like Cope2, Pez and 123Klan, rapper Big Sean, Big K.R.I.T., boxer Miguel Cotto and others. The ecommerce division of Ecko has continued to help elevate the brand in the digital space, recently mentioned in Mashable and New York Times for their innovations. From music videos and television programs to catwalks, action sports, and video games. Ecko's "World Famous Rhino Brand" has expanded to include polo shirts, jeans, shorts, watches, and more.
About Warner Bros. Consumer Products
Warner Bros. Consumer Products, a Warner Bros. Entertainment Company, is one of the leading licensing and retail merchandising organizations in the world.
About DC Entertainment
DC Entertainment, home to iconic brands DC Comics (Superman, Batman, Green Lantern, Wonder Woman, The Flash), Vertigo (Sandman, Fables) and MAD, is the creative division charged with strategically integrating its content across Warner Bros. Entertainment and Time Warner. DC Entertainment works in concert with many key Warner Bros. divisions to unleash its stories and characters across all media, including but not limited to film, television, consumer products, home entertainment and interactive games. Publishing thousands of comic books, graphic novels and magazines each year, DC Entertainment is the largest English-language publisher of comics in the world. In January 2012, DC Entertainment, in collaboration with Warner Bros. and Time Warner divisions, launched We Can Be Heroes—a giving campaign featuring the iconic Justice League super heroes—to raise awareness and funds to fight the hunger crisis in the Horn of Africa.
CONTACT:
Marc Ecko Enterprises
Brian Honigman
brianh(at)ecko(dot)com
Warner Bros. Consumer Products
Janice Aguilar-Herrero
janice(dot)aguilar-herrero(at)warnerbros(dot)com
# # #
BATMAN and all related characters and elements are trademarks of and © DC Comics.
(s12)