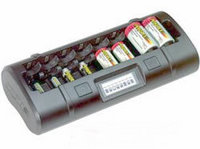 Your source for batteries, battery chargers, and rechargeable power for all the electronics in your life today.
Paris, IL (PRWEB) March 9, 2010
ThomasDistributing.com now features the powerful Battery Finder allowing customers to easily search for batteries and accessories specific to a device or type of consumer electronics. This is part of the company's ongoing commitment to ensure that customers quickly and easily find the correct battery to fit their needs.
Using the Battery Finder on ThomasDistributing.com customers can begin a search by clicking on the icon for the type of device (e.g. - Digital Camera, Camcorder, Laptop/Notebook, Power Tool, etc). The customer then continues by choosing the correct brand and model which brings up a list of compatible batteries and accessories. The Battery Finder reduces the time it takes to find the correct battery and accessories thus eliminating the need for guesswork.
Thomas Distributing offers a full line of batteries, testers, battery chargers, and rechargeable batteries for a variety of consumer electronics. The online commerce division at ThomasDistributing.com sells and specializes in batteries, battery chargers and rechargeable lithium and NiMH batteries for cell phones, digital cameras, laptops and notebooks, power tools, PDAs, iPods and MP3 players, and cordless phones. They feature popular products like the Maha Imedion batteries as well as the Maha C9000, Maha C801D, and the Maha 808M battery chargers.
About Thomas Distributing / ThomasDistributing.com
Thomas Distributing, founded by Dennis Thomas, opened its doors for business in 1975. What began as a CB radio store and repair shop quickly grew into both a retail and mail order business. With the launch of their online store at ThomasDistributing.com in 1995, the company expanded to sell battery testers, proprietary batteries, and replacement batteries for consumer and professional quality electronics.
For thirty-five years, customer service has been a hallmark of Thomas Distributing, and it remains a family-owned business located in Paris, Illinois with nine full-time employees. Still going strong, the staff celebrates continued success in their motto, "Your source for batteries, battery chargers, and rechargeable power for all the electronics in your life today."
Thomas Distributing
128 E Wood Street
Paris, IL 61944
Toll Free 800-821-2769
http://www.ThomasDistributing.com
###