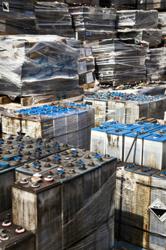 Sterling Heights, MI (PRWEB) May 01, 2013
The average household has over 20 battery operated devices in use, and that number continues to grow. Large companies have many more, and the batteries they use have a significantly worse impact on the environment if not properly recycled. Energy Products and Battery Giant have teamed up to make proper battery recycling easier for everyone with BatteryRecyclingUSA.com
A growing problem in the battery recycling industry is the outsourcing of recycling to foreign countries. While a person may think they are doing the "green thing" by recycling, they may in fact be sending their batteries to poorly or unregulated facilities whose main goal is to extract value from used batteries and not to protect the environment. All of Energy Products' collected batteries are recycled within the United States. Energy Products Battery Recycling, in conjunction with East Penn Manufacturing, began recycling long before the practice was mandated by federal and state governments. Their recycling facilities include an EPA permitted secondary lead smelter and refinery, the industry's first acid reclamation plant and a state-of-the-art water treatment facility. Nearly 100% of used Lead Acid batteries are recycled for use in the production of new batteries.
Energy Products handles all types of battery recycling including commercial recycling, residential recycling, government and municipal recycling programs and UPS battery recycling. With their own environmental engineer on staff and in-house de-installation team for large battery room recycling projects, Energy Products can ensure that your recycling needs are being met by their own staff.
The BatteryRecyclingUSA.com website allows users to request quotes for bulk recycling. Depending on the types of batteries being recycled, Energy Products will pay to bring the batteries in.
Energy Products currently has multiple locations in Michigan, Ohio and Pennsylvania with over 150,000 square feet of distribution, office and service bays. Their fleet of twenty vehicles includes tractor trailers, delivery trucks, service vans and specialized trailers. Their core products and services are related to batteries, battery recycling, charging systems and industrial/ utility vehicles.