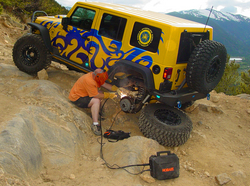 The Trek 180 was designed to dominate the marketplace where other portable welders fall short
Appelton, WI (PRWEB) October 12, 2009
Highlights/Key Facts
Portable: 52-lb. package operates while plugged in or completely cordless
Powerful Output:
o 180 amps on 115V power (an output previously limited to 230V welders)
o 120 amps on 17VDC battery power at 20 percent duty cycle

Recharge from inside a vehicle using an automotive power inverter
Exceptional arc quality with self-shielded flux-cored or solid-gas wires
Leave the generator and extension cords behind. Hobart Welding Products today introduces the Trek® 180: a self-contained battery-powered MIG welding package and the first professional system for true "off-the-grid" welding. The ultra-portable (52-lb.) Trek delivers heavy-duty weld power to fabricate or repair 24-gauge- up to 1/4-in.-mild steel in a single pass. Two internal, high performance batteries enable the Trek to achieve a 100-percent charge in 90 minutes or a 20-minute, 80-percent quick charge from a standard 115V wall outlet or within a vehicle using an automotive power inverter.
The Trek 180 is designed to meet the demands of metalworking enthusiasts in DIY, automotive restoration, racing and home hobby markets who require great arc performance in an extremely portable package.
Hobart offers the Trek 180 with an MSRP of $1,400 US through farm/ranch and hardware/tool retailers in the U.S. and Canada. Prices and availability may vary by retailer.
Power and Portability
The Trek 180 is designed to operate while plugged in or completely cordless. Its detachable power cord plugs into standard 115V receptacles. Convenient for traveling professionals, the Trek 180 can be charged inside a vehicle with an automotive power inverter (400 continuous watt minimum.)
While charging, Hobart's patented AutoPower™ technology automatically scans the available input charging power as not to over stress low-capacity devices such as automotive inverters.
Two internal, high-performance, sealed lead-acid batteries provide the energy storage needed for welding in remote applications. The batteries feature Thin Plate Pure Lead (TPPL) technology, which allows the Trek to achieve a 20-minute, 80-percent quick charge or full charge in approximately 90 minutes.
When fully charged, the unit delivers approximately 100-in. of continuous weld bead using .030 dia. flux-cored wire on 1/8-in mild steel. Unlike other battery welders, battery power is monitored continuously to provide consistent welding voltage regardless of the charge level. The Trek's low battery shutdown feature disables the welder when the battery runs low, protecting the life of the battery and quality of weld output.
On battery power alone, the Trek 180 offers a rated output of 120 amps, 17 VDC at 20 percent duty cycle. When plugged into standard 115V power, the unit is capable of delivering 180 amps, (an output previously limited to 230V welders!)
The Trek's low 12-amp power draw allows the unit excellent performance when using cheap or low-quality extension cords commonly found in home improvement stores.
A removable storage bag is a handy compartment for securing all the Trek's cables, MIG gun, work clamp and removable power cord with additional room for extra wire, contact tips and welding gloves. The bag can be detached, allowing the unit to slide under a seat of a truck, or strapped down.
Superior Arc Performance
Inverter-based technology enables Hobart's Trek 180 to control arc characteristics thousands of times faster than conventional transformer technology. As a result, the unit provides welding characteristics--positive arc starts without popping and minimal spatter while welding--that are far superior to any other small MIG welder. This includes highly stable, low-spatter welding with self-shielded flux-core wire and outstanding results when using mixed gas.
The Trek 180 features a durable built-in wire feeder with a quick-release tension lever. Accepting 4-in. spools of .023-.035 wire, its cast aluminum dual-groove drive rolls can be configured for a smooth or knurled feeding performance. Its infinite voltage and wire feed control provides a broader operating window for each wire, allowing operators to quickly and easily fine-tune the welding arc for their desired output on different materials and thicknesses.
The Trek 180 also ushers in a new form of operator/machine communication. LED diagnostic lights on the front of the unit provide quick information on temperature, charging and battery status. The real advantage to operators is the ability to quickly identify if the unit momentarily shut down due to duty-cycle, or low battery; saving unnecessary trips to service centers.
Tough, Durable, Reliable
Leading the way for a new category of durable welding equipment, the Trek 180 was tested to meet the most extreme conditions the unit was designed to encounter. Because welding machines often ride in the back of trucks and get used on tough job sites, they are often subjected to incidental abuse, impact from tools and materials (lumber, steel beams, bricks, etc.) and covered with dust, dirt and water. To survive this environment, the Trek 180s' case is made from impact-resistant plastic that provides superior strength and durability compared to metal cases.
Every internal component was engineered with durability in mind from the built-in wire feeder to the constant-voltage DC power source and inverter circuitry. Pre-production, Hobart engineers comprehensively tested the trek for reliability in extreme environments and situations. Additionally, each Trek 180 is tested before it leaves the production floor.
No other welding manufacturer offers a better warranty than Hobart does. The Trek 180 is backed by Hobart's 5/3/1 warranty, which covers power source electronics for three years and the MIG gun for one year on parts and labor.
Product manager quote
"The Trek 180 was designed to dominate the marketplace where other portable welders fall short," says Scott Rozmarynowski, product manager, Hobart Welding Products. "It offers the perfect combination of welding performance, portability and power with all the practicality and convenience you'd come to expect from a Hobart welder."
About Hobart Welding Products
Hobart Welding Products offers a complete line of industrial-grade Stick, MIG, TIG and spot welders, plasma cutters and generator/welding power sources designed for easy use. Hobart products are available through farm and tool retail stores as well as welding supply distributors.
Hobart Welding Products is a division of Hobart Brothers Company, Troy, Ohio, a wholly owned subsidiary of Illinois Tool Works Inc. (NYSE: ITW). Based in Glenview, Ill. ITW is a multinational Fortune 200 company that engineers and manufactures welding products, fasteners, components, assemblies and systems for customers around the world.
For more information contact:
Corporate Headquarters:
HOBART Welding Products
1635 West Spencer Street
Appleton, WI 54912-1079
Literature Requests:
HOBART Welding Products
P.O. Box 100
Lithonia, GA 30058.
Web site: http://www.HobartWelders.com
E-mail: info (at) hobartwelders (dot) com
Sales & Customer Support: 1-877-HOBART1 (877-462-2781)
###