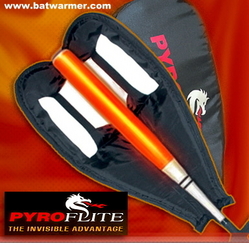 The first night I took it out, players couldn't believe what they saw and felt -- a hot bat in sub 60-degree weather
Medina, ND (PRWEB) October 19, 2010
With the fall season here and temperatures cooling across the country means it's time to heat up that expensive softball or baseball bat with a Pyroflite Bat Warmer Sleeve. PyroFlite™, a North Dakota based manufacturer of microwaveable softball, baseball bat warmers is the world leader in sports equipment warming.
The recent ASA ruling is especially important as fall ball season has just started and temperatures start to cool in all parts of the country. ASA players can now keep their bats at the proper temperature in which they were designed to be used.
"I bought one of your bat warmers a couple of weeks ago. My daughter plays 14u fastpitch and swings a Catalyst fpc205 composite. She was keeping the bat in her equipment bag in our garage which stays about 55 degrees or so in the winter. She was hitting in a 65 degree batting cage, and getting teeth-rattling bat sting.
There is no doubt, this product removed 100% of her bat sting".... J. Pike, Kentucky
That's why Brian Knetter invented the microwavable Bat Warmer. PyroFlite™ is the pioneer and leader in bat-warming technology.
The Microwavable PyroFlite™ Bat Warmer was invented a decade ago by Knetter, who had lost countless bats to dents, dings and breaks while playing in North Dakota's cold ball season. Knetter not only saw a need to keep his high-end bats safe, but also knew it was equally important to ensure a bat worked its best.
With the Microwavable PyroFlite™ Bat Warmer, baseball and softball players can keep their summer hitting stroke during the winter months, gain greater hitting consistency and maintain the health of their bats by preventing both cracking and denting.
Knetter's easy-to-use system safely warms bats even on coldest days, and is equally helpful to those playing on baseball and softball fields from California to Florida -- and all points in between.
The Microwavable PyroFlite™ Bat Warmer also helps eliminate pain. On cold days, when a bat hits the ball, it causes severe stinging or even bone bruises, which can easily last up to six weeks and ruin a season. For a high school athlete, that could cost them a college scholarship or more.
The Microwavable PyroFlite™ Bat Warmer warms, composite, aluminum or wood bats and eliminates the sting and vibrations, thus allowing players to swing for the fence with confidence.
"The first night I took it out, players couldn't believe what they saw and felt -- a hot bat in sub 60-degree weather," said Mark Anderton, New Zealand national batting champ and catcher/pitcher for Eddie Feigner's The King and His Court four-man Fastpitch Team. "And the feeling the batter got was not one of a 'dull jarring effect' but more like what they expect from an expensive bat -- Hot with some pop."
Longer bat life is another benefit.
When temperatures drop, your bat can not flex the way it was designed to. Because of this, bat companies suggest on the bats themselves not to use them in temperatures less than 65 degrees. Dents, cracks and even dangerous breaks can occur in bats that aren't warmed to a bat manufacturer's recommended temperature. When a bat cracks or breaks, it has to be replaced, at a cost of hundreds of dollars each time.
The Microwavable PyroFlite™ Bat Warmer has been approved and endorsed by several organizations, most notably the Amateur Softball Association (ASA) United States Specialty Sports Association (USSSA) and National Softball Association (NSA).
PyroFlite™ is a official partner of the USSSA.
"USSSA is looking forward to working with PyroFlite™ and helping all of our players play the best game they can regardless of the playing temperature," said USSSA Executive Director and CEO Don DeDonatis. "After looking at several products we concluded PyroFlite's Microwaveable Bat Warmer is the easiest way to keep a bat warm. It is easy to use, it's extremely affordable and provides the player an excellent method to keep their bats safe and sound."
For more information, go online to http://www.batwarmer.com
Or visit our PyroFlite™ Press Kit
###