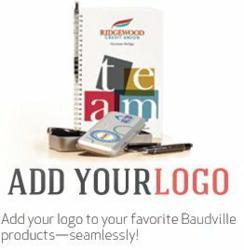 Baudville has released hundreds of new products designed to create stronger teams, better managers, and great workplaces.
Grand Rapids, MI (PRWEB) January 09, 2013
The New Year is typically a time to set new goals and resolutions. For Baudville, the leading provider in day-to-day recognition and award solutions for education, healthcare, and business, this January marks the achievement of several goals with the release of new manager kits, custom gifts, and custom t-shirts.
Baudville has released hundreds of new products designed to create stronger teams, better managers, and great workplaces. The new products expand Baudville's recognition offering, and all of the new products are available for sale on Baudville.com.
"Our team had lofty goals to give our customers new, exciting products in 2013," said Kristy Sherlund, Baudville VP of Product and Merchandising. "We are thrilled with the variety of products in this launch and think our customers will be excited, too."
Continuing a strong tradition of innovative day-to-day recognition products, Baudville's new manager kits are designed to help managers become more efficient and effective at delivering on-the-spot praise. Three new products, Badges of Greatness TM, Collect Your Flair TM, and Recognition Survival Kits TM, equip managers with ready-to-launch recognition programs for affirming positive behaviors.
Baudville's recognition experts also created products to encourage manager development. The new 30-Day Recognition Mission TM programs teach managers to build better habits, become more effective leaders, and unite teams in just 30 days. Baudville hopes the product will help new and experienced managers meet their goals in 2013 and beyond.
"We understand that the life of a manager is extremely busy," said Sherlund. "With that in mind, we designed our new collection of manager kits to make recognition easier and more accessible to managers at all levels of an organization."
Baudville also had a goal to offer more custom gifts. As part of the new product launch, customers can now order as few as five custom gifts with a simple, streamlined ordering process. Using the online wizard, customers can pair a logo with one of ten best-selling recognition themes and personalize gifts individually. The artwork is printed in full color and can be applied to six different gift options.
"We are excited that we now have the ability to create affordable custom gifts for even small teams," said Sherlund. "We think customers are going to appreciate the ease of ordering and quick turnaround time."
"Custom t-shirts is an exciting new category that responds to a popular Baudville customer suggestion," explained Sherlund. "Customers have asked for our themes and smart sayings on t-shirts for years, and we're excited to now provide that product."
Customers can choose from hundreds of pre-made t-shirt designs that were created for business, school, and organizational events. The custom t-shirts can be created on Baudville's website where customers can preview the t-shirt design as it's built. Shirts ship in five business days.
"With the addition of these new products to our popular recognition themes, we hope to be the primary resource for our customers' recognition and appreciation needs," explained Sherlund. "We look forward to partnering with organizations of all sizes to help them achieve their team goals and create great places to work."
View the new manager kits, shop custom gifts, and create custom t-shirts at http://www.baudville.com.
About Baudville
Baudville, the place for daily recognition, continues to be the leading innovator in day-to-day recognition solutions. Baudville's day-to-day recognition solutions appeal to today's increasingly diverse workforce with contemporary designs and relevant messaging, motivating and engaging workplaces world-wide. Baudville has been declared one of the best companies to work for in its area and strives to create the ultimate workplace experience for its employees.