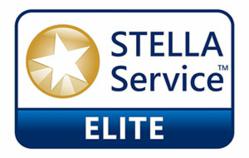 The STELLAService ELITE achievement is a reflection of the level of service and commitment Baudville employees provide our customers every day.
Grand Rapids, MI (PRWEB) May 31, 2013
Baudville, the leading provider in day-to-day recognition and award solutions for education, healthcare, and business, is proud to announce that it has received the "ELITE" rating from STELLAService. As an independent provider of customer service ratings for eCommerce retailers, STELLAService empowers online shoppers to select a retailer based on unbiased reviews of the user experience.
"One of the most important aspects of our customer service training program is that our agents understand the customer's perspective," explained Baudville President and CEO Brad Darooge. "By following the Platinum Rule: to treat others as they want to be treated, we have achieved a following of exceptionally satisfied customers."
Baudville has high service standards for every customer transaction. All standard orders placed by 6pm EST are shipped same day, and orders of personalized gifts approved by 3pm EST engrave and ship same day. The company also has a service standard to answer every customer phone call with a live person within 10 seconds or less.
To achieve an "ELITE" rating, extensive evaluations are conducted by professionally trained analysts disguised as an average customer. A typical assessment starts at the beginning of the shopping process and continues through the post-sale with random checks made through the shopping life cycle. This process ensures that evaluations are authentic and STELLAService analysts experience the same level of customer service that all Baudville customers receive.
Receiving an "ELITE" rating isn't easy, and Baudville applauds its staff for the new award. "This achievement is a reflection of the level of service and commitment our employees provide our customers every day," said Darooge.
About Baudville
Baudville, the place for daily recognition, continues to be the leading innovator in day-to-day recognition solutions. Baudville's day-to-day recognition solutions appeal to today's increasingly diverse workforce with contemporary designs and relevant messaging, motivating and engaging workplaces world-wide. Baudville has been declared one of the best companies to work for in its area and has received the ELITE award from STELLAService for excellence in customer service.
About STELLAService
STELLAService is the first and only company dedicated to publishing objective, in-depth ratings on the customer service performance of online businesses. STELLAService adheres to the highest evaluation standards; it does not inform Internet retailers of the timing of its evaluations and pays for all products purchased from—and returned to—each website it evaluates. Retailers cannot pay to be rated nor can they influence the ratings in any way. The invaluable data obtained by STELLAService is used by consumers to make more informed online purchasing decisions and by companies to obtain crucial business and industry intelligence. More information can be found at http://stellaservice.com/.