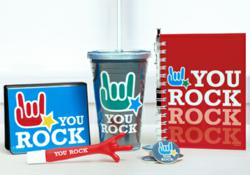 We celebrate customer service excellence every year, and it all starts with great Customer Service Week themes.
Grand Rapids, MI (PRWEB) August 22, 2012
When it comes to celebrating Customer Service Week, Baudville, the leading provider in day-to-day recognition and award solutions for schools and the workplace, recommends taking advantage of the holiday to express appreciation for customer service professionals.
Customer Service Week is a nationally-recognized observance week taking place October 1 – 5, 2012. The recognition holiday provides companies the opportunity to put the spotlight on frontline customer service representatives. Baudville recommends companies start by brainstorming Customer Service Week themes. Using a theme makes the event more memorable, and saves time and money during the planning process.
"A theme serves as the branding for your event or program," explained Baudville President and CEO Brad Darooge. "Our designers spend weeks perfecting themes and searching high and low for the newest gift items."
Baudville has over 100 recognition themes, and the recognition experts recommend customers choose a different theme for Customer Service Week each year. Darooge says the popular Customer Service Week theme for 2012 is You Rock, a new addition to the Baudville repertoire that is designed for a diverse workforce.
Darooge points out that sincere appreciation to frontline employees during Customer Service Week is an important part of customer satisfaction and retention. Research shows that happy employees lead to happy customers and happy customers generate more revenue. Customer Service Week themes make the appreciation more memorable and effective, and therefore have a greater impact on customer satisfaction.
Darooge directs managers looking for unique Customer Service Week themes to Baudville's Recognition Resource Center for articles, videos, and newsletters. All the resources focus on planning effective Customer Service Week celebrations that will increase employee and customer satisfaction.
"We've seen firsthand the value celebrating exceptional customer service can bring to an organization," said Darooge. "We want to help our customers have a similarly great experience with their celebrations."
At Baudville, Customer Service Week is recognized with a week-long celebration that includes the entire company. "We believe every employee plays an important part in the customer experience," explained Brad Darooge. "We celebrate our customer service excellence every year, and it all starts with great Customer Service Week themes."
For more Customer Service Week themes, visit Baudville.com: http://www.baudville.com/pc/customer-service-week.
About Baudville
Baudville, the place for daily recognition, continues to be the leading innovator in day-to-day recognition solutions. Baudville's day-to-day recognition solutions appeal to today's increasingly diverse workforce with contemporary designs and relevant messaging, motivating and engaging workplaces world-wide. Baudville has been declared one of the best companies to work for in its area and strives to create the ultimate work experience for its employees.